New York Yankees: 50 greatest players of all-time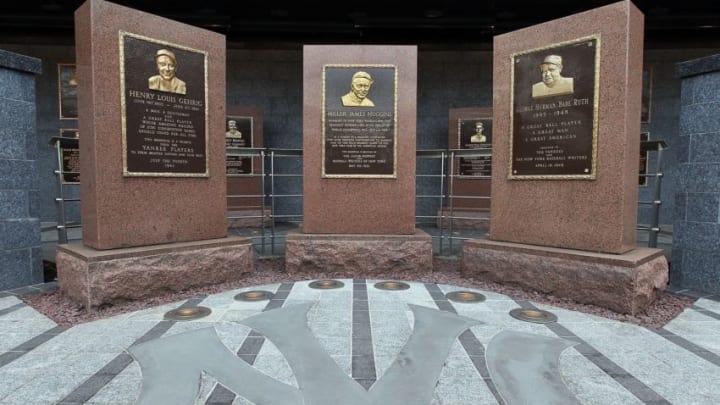 NEW YORK - MAY 02: The monuments of (L-R) Lou Gehrig, Miller Huggins, and Babe Ruth are seen in Monument Park at Yankee Stadium prior to game between the New York Yankees and the Chicago White Sox on May 2, 2010 in the Bronx borough of New York City. The Yankees defeated the White Sox 12-3. (Photo by Jim McIsaac/Getty Images) /
The Yankees signed University of Maryland standout Charlie Keller in the summer of 1936 and he was immediately assigned to their top farm club in Newark for the 1937 season.
He made it to the big leagues just two years later, installed in right field before moving to left for the 1941 season.
He had impressive power and patience at the plate, but unlike many left-handed hitters in the Bronx, Keller did not go out of his way to pull the ball. Instead, he was content to drive it where it was pitched, according to the Society for American Baseball Research.
The approach worked. Keller was a five-time All-Star for the Yankees, twice leading the American League in walks and topping the circuit with a .922 OPS in 1943. He missed most of 1944 and part of 1945 serving in the Merchant Marines.
He played a full season in 1946, but injuries began to take a toll. A slipped disc in June 1947 ended his season after 45 games and he was never again a full-time player.
The Yankees released Keller in December 1949 and he spent two seasons with the Detroit Tigers before returning in September 1952 for a two-game cameo with the Yankees.
In parts of 11 seasons, Keller hit .286/.410/.928 with an OPS+ of 152, clubbing 184 homers with 723 RBI and 712 runs scored.
He was part of three World Series winners for the Yankees, hitting .306/.367/.978 with five home runs and 18 RBI in 19 World Series games. Keller was particularly good in a four-game sweep of the Cincinnati Reds in 1939, going 7-for-16 with three homers and six RBI.
In retirement, Keller founded Yankeeland Farms in Maryland and raised champion harness racers.
He continued to work the farm until he died from colon cancer on May 23, 1990 at the age of 73.