New York Yankees: 50 greatest players of all-time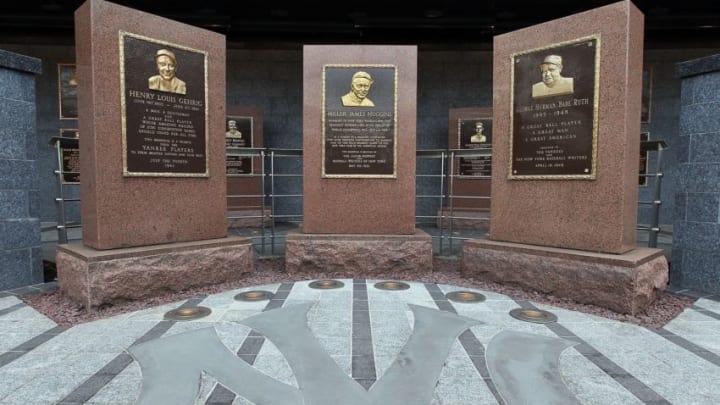 NEW YORK - MAY 02: The monuments of (L-R) Lou Gehrig, Miller Huggins, and Babe Ruth are seen in Monument Park at Yankee Stadium prior to game between the New York Yankees and the Chicago White Sox on May 2, 2010 in the Bronx borough of New York City. The Yankees defeated the White Sox 12-3. (Photo by Jim McIsaac/Getty Images) /
The first time Phil Rizzuto got a professional baseball tryout, it didn't go well.
According to the Society for American Baseball Research, a coach for the New York Giants told Rizzuto he was too small to play in the majors and should consider shining shoes.
But in 1937, he shined brightly enough to get a contract with the Yankees and with that, the Brooklyn native was off and running.
He broke in to the bigs in 1941, claiming the starting shortstop job and holding it through seven World Series titles and five All-Star appearances, interrupted from 1943-45 while he served in the Navy.
When the Yankees won the World Series title in 1949, Rizzuto was runner-up to Ted Williams of the Boston Red Sox for the MVP award, an honor he claimed the following season.
It wasn't for his big offensive numbers. The 5-foot-6 Rizzuto never hit more than seven home runs in a season and hit better than .300 just twice in his career.
But he was the table-setter for the Yankees. Getting on base and moving up runners. He led the American League in sacrifice hits four straight years from 1949-52 and finished his 13-year career with 193 successful sacrifices.
He also led the AL with 735 plate appearances in 1950, a season in which he batted .324/.418/.439 and scored 125 runs.
Rizzuto faded into a part-time role in 1955 and was released in August 1956, less than a month shy of his 39th birthday.
For his career, he hit .273/.351/.706 in 1,661 games, scoring 877 runs with 38 homers and 563 RBI.
But that wasn't the end of Rizzuto's days with the Yankees, spending 40 years as a broadcaster for the team until retiring in 1996.
Rizzuto was a Veteran's Committee selection for the Hall of Fame in 1994 and he died Aug. 13, 2007 at the age of 89.