New York Yankees: 50 greatest players of all-time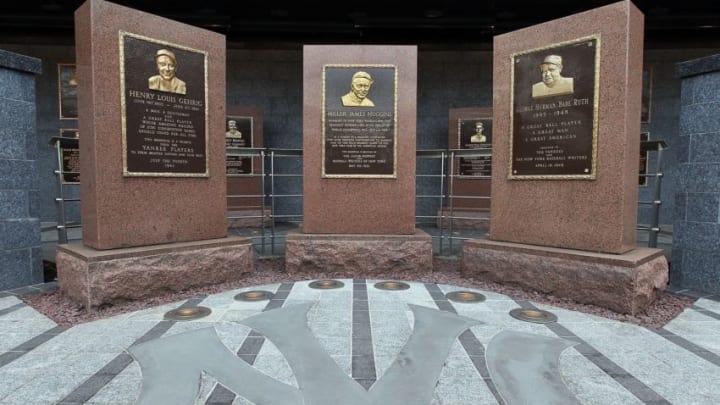 NEW YORK - MAY 02: The monuments of (L-R) Lou Gehrig, Miller Huggins, and Babe Ruth are seen in Monument Park at Yankee Stadium prior to game between the New York Yankees and the Chicago White Sox on May 2, 2010 in the Bronx borough of New York City. The Yankees defeated the White Sox 12-3. (Photo by Jim McIsaac/Getty Images) /
(Photo by Jim Rogash/Getty Images) /
Lanky left-hander Herb Pennock was the last of 11 Boston Red Sox regulars to find his way to the New York Yankees during the time Harry Frazee owned the Boston club from 1916-23.
Pennock was signed as a teenager by Connie Mack's Philadelphia Athletics in 1911 and made his debut for the American League powerhouse in 1912, according to the Society for American Baseball Research.
When Mack let his star players go after the 1914 season, Pennock emerged as the A's ace, but heavy doses of losing cost him his confidence and Boston claimed him off waivers in June 1915.
He saw part-time duty before enlisting in the Navy in 1918, but upon his return in 1919, Pennock earned a full-time spot in the Red Sox rotation.
But his career took off after he was acquired by the Yankees in January 1924 in exchange for three minor leaguers and $50,000 cash.
Pennock led the American League with a .760 winning percentage in 1923, going 19-6 in 35 appearances and 27 starts, and later led the circuit with 277 innings in 1925 and twice posting the AL's best WHIP (1925-26).
Pennock also led the AL with five shutouts in 1928 and the control freak three times posted the best walks per nine innings rate in the league.
His role gradually reduced until he was primarily a reliever by 1933 at age 39. The Yankees released Pennock in January 1934 and he signed with the Red Sox for a final big league season, becoming the first pitcher in MLB history to record wins as a teenager and in his 40s, a feat later matched by Bert Blyleven and Mike Morgan.
Pennock coached for the Red Sox from 1936-39, as well, and was the general manager for the Philadelphia Phillies from 1944-48, briefly changing the name of the team to the Blue Jays.
In 11 seasons with the Yankees, Pennock had a 3.54 ERA and a 1.335 WHIP to go with an ERA+ of 114 in an era of heavy offensive firepower. He appeared in 346 games and 2,203.1 innings with 700 strikeouts to go with a 162-90 record, 165 complete games and 19 shutouts.
Attending a league meeting in New York on Jan. 30, 1948, Pennock collapsed from a stroke and died at the age of 53. He was inducted into the Hall of Fame later that year.