New York Yankees: 50 greatest players of all-time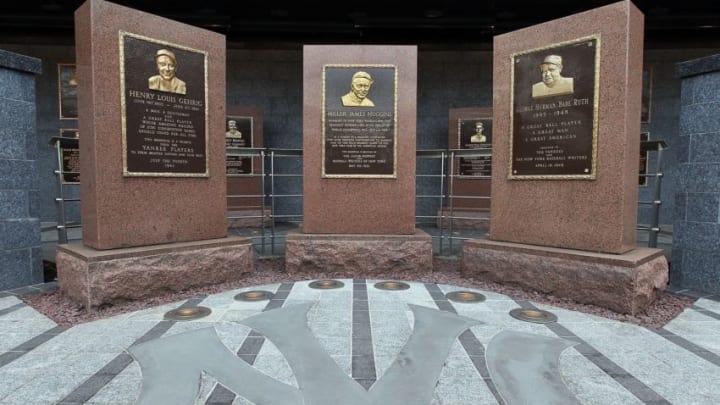 NEW YORK - MAY 02: The monuments of (L-R) Lou Gehrig, Miller Huggins, and Babe Ruth are seen in Monument Park at Yankee Stadium prior to game between the New York Yankees and the Chicago White Sox on May 2, 2010 in the Bronx borough of New York City. The Yankees defeated the White Sox 12-3. (Photo by Jim McIsaac/Getty Images) /
Roger Peckinpaugh was a 22-year-old prospect when he was acquired by the Yankees from the Cleveland Naps in a three-player trade in May 1913.
He became one of the top fielding shortstops of the dead ball era and anchored the infield for the Yankees for nearly a decade.
Along the way, he became the youngest manager in Major League Baseball history, leading the Yankees for the final 20 games of the 1914 season after the resignation of Frank Chance. Peckinpaugh was just 23 at the time.
A native of Cleveland, Peckinpaugh turned pro in 1909 when he signed with his hometown Naps after graduating from high school, per the Society for American Baseball Research.
Peckinpaugh led all American League shortstops in assists three times while a Yankee and developed into a fair hitter along the way.
After helping New York to its first World Series appearance in 1921, Peckinpaugh was dealt to the Boston Red Sox in a blockbuster six-player trade in December of that year. Less than a month later, he was traded again, this time to the Washington Senators.
He was American League MVP with the Senators in 1925 and played 17 seasons in all before retiring in 1927.
With the Yankees, Peckinpaugh hit .257/.334/.676 in parts of nine seasons, playing in 1,219 games and hitting 36 homers to go with 428 RBI while scoring 670 runs and stealing 143 bases.
He went on to manage the Cleveland Indians from 1928-33 and again in 1941. After five years in Cleveland's front office, he retired from baseball for good in 1946.
Peckinpaugh died in Cleveland on Nov. 17, 1977 at the age of 86.