New York Yankees: 50 greatest players of all-time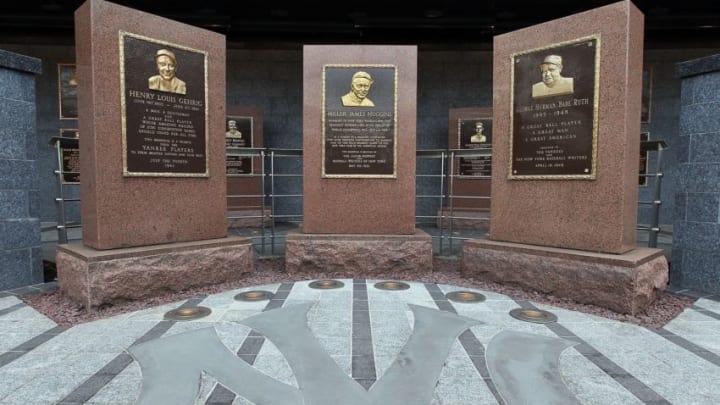 NEW YORK - MAY 02: The monuments of (L-R) Lou Gehrig, Miller Huggins, and Babe Ruth are seen in Monument Park at Yankee Stadium prior to game between the New York Yankees and the Chicago White Sox on May 2, 2010 in the Bronx borough of New York City. The Yankees defeated the White Sox 12-3. (Photo by Jim McIsaac/Getty Images) /
(Photo by Jim McIsaac/Getty Images) /
The New York Yankees trace their roots to the old New York Highlanders, an American League franchise that began in 1903. Here are their 50 greatest players of all-time.
The New York Yankees played their first 10 seasons in New York as the New York Highlanders, a franchise that began in 1903 after the Baltimore Orioles (no relation to the current Orioles) were folded after the American League's second season in 1902.
The Yankee name was instituted for the 1913 season. In 1912, the Highlanders began playing some home games at the Polo Grounds as well as Hilltop Park, which opened for the club in April 1903 in Washington Heights on Broadway between 165th and 168th.
The name change coincided with the team abandoning Hilltop Park for the Polo Grounds entirely.
But the franchise that is now known for its major-league best 27 World Series titles didn't take shape until 1920, when the Yankees purchased the contract of slugging star Babe Ruth from the Boston Red Sox, launching an era that marked the club's first forays into postseason play with three straight World Series trips from 1921-23.
The Yanks captured their first World Series championship in 1923, which was also their first season in the original Yankee Stadium, a park tailor-made for the left-handed swing of Ruth with its short porch in right field.
So with 115 years of history through 2017, 53 playoff appearances, 40 American League pennants and those 27 World Series wins, not to mention more than 10,000 regular-season victories, creating a list of the franchise's 50 greatest players is a daunting task.
Qualifying standards of 3,000 plate appearances for position players and either 1,000 innings pitched or 200 games for pitchers were used, leaving 112 players in all.
One can't take on a list such as this without having to mention the elephant in the room — baseball's performance-enhancing drug scandals of the late 20th and early 21st centuries.
Players were judged for this list solely based on their performance on the field, something that may cause consternation for some readers.
With that said, let's jump into the list of the 50 greatest New York Yankees of all-time:
(Photo by General Photographic Agency/Getty Images) /
Ben Chapman achieves some posthumous notoriety for how he was portrayed in the Jackie Robinson bio pic 42, when Chapman was the manager of the Philadelphia Phillies and not at all enamored of the idea of integrating Major League Baseball.
The Yankees signed Chapman from Phillips High School in Birmingham, Alabama, in 1927 and he debuted with the big-league club three years later in 1930.
He came up as an infielder, playing third and second base, but was converted to the outfield for the 1931 season and spent time as a regular at all three outfield spots.
Chapman was an All-Star for the Yankees three straight seasons, 1933-35, and led the AL in stolen bases three straight years as well, 1931-33, including a career-high 61 thefts in 1931.
That was his best season as a Yankee, when he hit .315/.396/.879 in 149 games with 17 homers, 122 RBI while scoring 120 runs and posting an OPS+ of 135.
Chapman led the American League with 13 triples in 1934 as he posted a .308/.381/.413 slash line.
His lone postseason appearance with the Yankees came in the 1932 World Series as he was 5-for-17 with six RBI in New York's four-game sweep of the Chicago Cubs.
In June 1936, Chapman was traded to the Washington Senators in exchange for center fielder Jake Powell and would also play for the Boston Red Sox, Cleveland Indians, Chicago White Sox, Brooklyn Dodgers and the Phillies in a 15-year big-league career.
As a Yankee, Chapman hit .305./.379/.451 in 910 games, with 50 homers, 589 RBI, 184 stolen bases, 626 runs scores and 64 triples.
Chapman died July 7, 1993, in Hoover, Alabama at the age of 84.