New York Yankees: 50 greatest players of all-time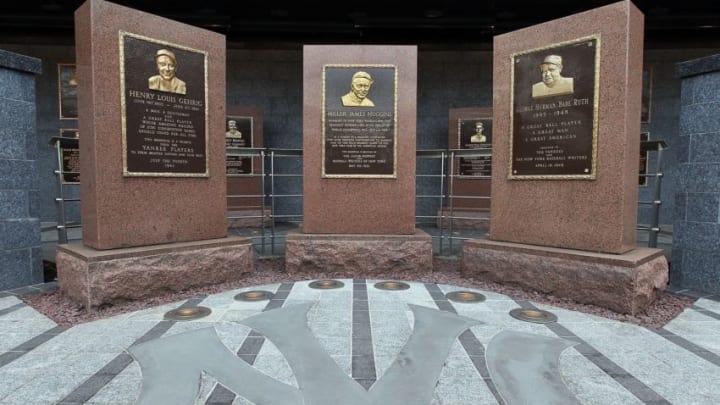 NEW YORK - MAY 02: The monuments of (L-R) Lou Gehrig, Miller Huggins, and Babe Ruth are seen in Monument Park at Yankee Stadium prior to game between the New York Yankees and the Chicago White Sox on May 2, 2010 in the Bronx borough of New York City. The Yankees defeated the White Sox 12-3. (Photo by Jim McIsaac/Getty Images) /
(Photo by Lass/Getty Images) /
The Highlanders acquired right-hander Russ Ford from Atlanta of the Southern Association, selecting him in the Rule 5 draft in September 1908.
Ford was the first player born in Manitoba to reach the major leagues. His family came to the United States, immigrating to Minneapolis, when Ford was three and he debuted in the minors with the Cedar Rapids Rabbits of the old Three-I League in 1905, according to Ford's bio at the Society for American Baseball Research.
He appeared in one game for the Highlanders in 1909 before taking the American League by storm as a 27-year-old rookie in 1910.
Throwing a devastating breaking ball (helped by a piece of emery board he kept stashed in his glove), Ford posted a 1.65 ERA and a 0.881 WHIP in 299.2 innings in 1910, starting 33 of his 36 appearances, completing 29 of them with eight shutouts, and going 26-6.
He followed that up with a 22-11 campaign in 1911 with a 2.27 ERA and 1.162 WHIP in 281.1 innings in 37 appearances, 33 starts, as the league began to adjust.
Ford pitched two more seasons with New York, one as a Highlander and the second as a Yankee in 1913, before jumping to the Buffalo Buffeds of the upstart Federal League when the Yankees wanted to cut his salary.
His emery ball was banned by the American League and the Federal League followed suit in 1915, which also marked Ford's last big-league season.
In five seasons with New York, Ford was 73-56 with a 2.54 ERA and 1.166 WHIP to go with 553 strikeouts in 1,112.2 innings.
He died Jan. 24, 1960, in Rockingham, North Carolina at the age of 76.