Yankees finally call-up top prospect Gleyber Torres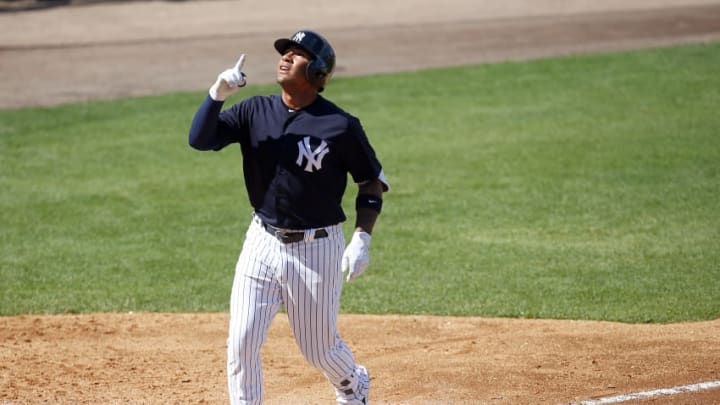 TAMPA, FL - MARCH 11: Gleyber Torres /
After anxiously waiting for some time now, the highly-touted Gleyber Torres has received his call-up to the big leagues. What should the Yankees and their fans expect out of him?
The No. 5 prospect in baseball, Torres was lighting it up in Triple-A. Hitting .370 on the season while splitting time between second, third and short. Although only 13 games into Scranton's season, Torres' utility infield ability is added value for the Yankees.
Gleyber's ascension to the Bronx comes off a strong 2017 season in which he hit .309 for the Railriders before needing Tommy John Surgery. But in order for the Yanks to find playing time and roster room for Torres, something will need to change.
Maybe the newly acquired Neil Walker, who has yet to make much of an impact this season, will find himself a new home for the duration of the season.
More from Yanks Go Yard
Walker has struggled, and his low salary makes him somewhat easy to trade. On top of that, because of his middle infield status, Torres could easily fill the holes which Walker leaves behind.
Or perhaps the troubled Tyler Wade will find his way back to the minor leagues, or on a new team. Wade, 23, still has time to grow into a better ballplayer, but as of now, he does not seem ready to face major league pitching.
Either way, Torres has forced the Yankees' front office to recognize and reward him for his efforts, which have been watched since before he was 17.
Torres has been praised throughout the early stage of his career for his quick hands and reliable arm, abling him to play anywhere on the diamond. And that ability has shown itself in Triple-A this year, as Torres has played two games at second base, three games at shortstop and eight games at third base.
However, with Miguel Andújar, already in the majors, in addition to Brandon Drury and Ronald Torreyes starting for the Bombers; and Didi Gregorius sizably holding down the fort at shortstop, Torres will struggle to find playing time.
If Andújar were to play some games at first base, that would leave Torres as the sole backup infielder; looking to play for injured or rested starters. 
Next: Yankees need to shake things up beginning with Rothschild
Nevertheless, Torres has finally been given his chance to see some major league at-bats. Do not expect too much from him as he will most likely see limited action, but it's still an exciting time for the young Venezuelan and fans alike, who get a glimpse into the Yankees' future.