NY Yankees fans are going to need these limited inventory New Era hats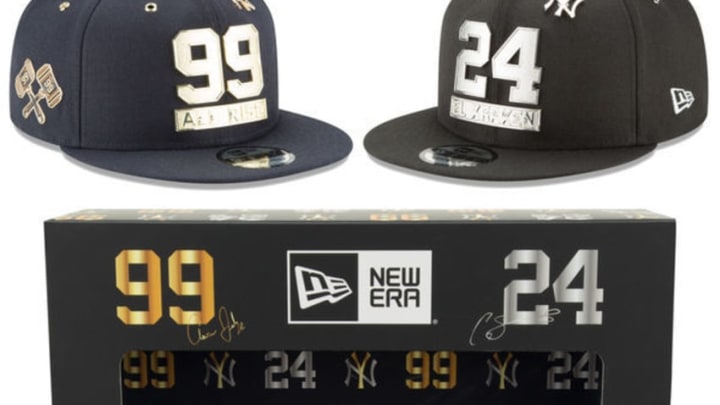 Fanatics /
NY Yankees fans are going to love this New Era box set, featuring hats from two Bronx superstars. Check it out.
NY Yankees fans know the importance of looking great at the ballpark. But there's looking good, and then there's rocking these limited inventory, one-time collectors hats from New Era.
Coming in a box set – and available (while supplies last) at Fanatics – these hats feature superstars Aaron Judge and Gary Sanchez. Beyond coming in special packaging, the hats have a number of cool/unique features.
Fanatics /
This high crown, structured fit snapback hats feature metallic accents on the right side for each player and digital signatures underneath the visor. Judges comes in gold, while Sanchez's is in silver. Both hats feature a Yankees pin on the upper left eyelet, and metallic snapback closures.
In short, they're unique and they look incredible. So what's not to love? 
Fanatics /
As you can see, Judge's hat features a pair of No. 99 gavels on the right panel, while Sanchez's features a No. 24 kraken. Each of these New Era 9FIFTY hats keeps it gold and silver theme going throughout the design.
This set is perfect for a Yankees die hard. The kind of fan that never misses a game – whether he's at the stadium, watching from the couch, or following along on their phone while on the subway.
One size fits most with these, so you don't have to worry about getting a product that's too big or small. All you have to do is wait until they're delivered – then you're set for years to come.
If you like what you see (who wouldn't?) go over to Fanatics and check them out. This is a once-in-a-lifetime product, and once they're gone, they're gone. So order yours now for $149.99.