Yankees: Justus Sheffield impressive despite one bad inning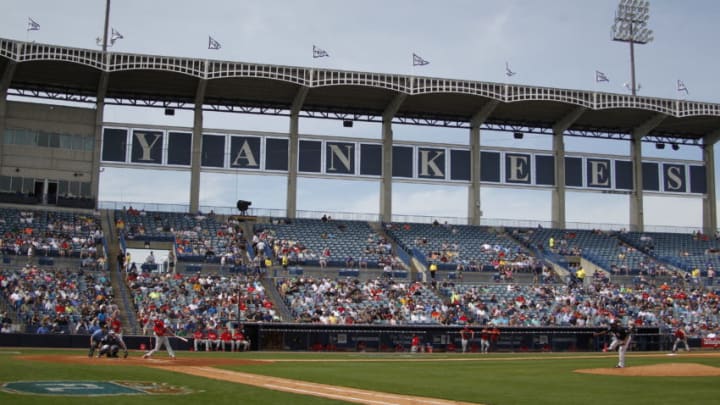 TAMPA, FL- MARCH 03: A view during the game between the Philadelphia Phillies and the New York Yankees at Steinbrenner Field on March 3, 2016 in Tampa, Florida. (Photo by Justin K. Aller/Getty Images) *** Local Caption *** /
In the third inning of Sunday afternoon's affair against the Phillies, Yankees No. 3 prospect Justus Sheffield looked big league ready. Just one inning later, he didn't.
Coming out of the bullpen for Yankees starter Jordan Montgomery, 21-year-old Justus Sheffield dominated the third frame of Sunday's Grapefruit League game against the Phillies.
The young southpaw struck out the first two batter's he faced before getting the final man to weakly ground out to end the inning.
Courtesy of his electric slider and 94-96 mph fastball, Sheffield dazzled his way through a perfect inning, leading many, including myself to exclaim, 'Sheff is letting the Yanks know there's no need to look outside the organization for additional arms.'
In hindsight, the commentary may have been a bit premature as Sheffield, wearing No. 86, walked the leadoff hitter to begin the fourth inning. And isn't it true that leadoff walks usually come back to haunt you?
The next pitch plunked Phils' prospect J.P. Crawford, followed by a sacrifice fly and a belt-high two-out, two-run homer by third baseman Maikel Franco, quickly ending Sheff's afternoon.
Although Sheffield's fastball hit the radar gun as high as 97 mph, big leaguers chomp at the bit for a straight offering down the heart of the plate.
More from Yankees News
But here's the thing, regardless of the fact that the Yanks' top pitching prospect gave up a big fly, or was pulled because he hit his pitch limit, in my eyes, and those that actually matter, manager Aaron Boone's — Sheff showed poise and quality to prove he's only a hop, skip and a jump away from the major leagues.
As Boone told the New York Post:
""I think it's really important that he walked out of there with a lot of confidence because if you had never seen him pitch before and you saw him in that first inning, he would open your eyes. He was special,'' Boone said. "I think he probably gets going a little bit too fast at times.''"
A little fast, sure. I mean, what were you doing at 21? Probably not pitching to big leaguers while wearing the pinstripes?
I fully expect Sheff to begin the season at Triple-A Scranton — to refine a repertoire that should allow him to dominate the minors to the point where the Yankees have no choice but to open a spot for him in the Bronx.
As the tweets I received like to point out, the kid needs more time. How much time, well, only Sheffield and the Yanks know that. But for those that continue to haunt me with the whispers of Alex Cobb or Lance Lynn signing a one-year deal, even Aaron Boone says it's unlikely to happen. Per Newsday.
""I know Cash is always kicking the tires and looking for ways to improve the club," Boone said. "But as we sit here today, it's my understanding that those guys [Lynn and Cobb] aren't really in play for us. I'd be surprised.""
Honestly, I could care less that Sheffield struggled for one inning. It's the third game of Spring Training. It's like saying Gleyber Torres needs to go back to Triple-A because he's 1-for-5 — having hit just one ball on the screws. It's way too early.
I'm looking for the positives to build on, and that third inning was magnificent. Much like Sheffield will be doing, it's all about developing consistency and avoiding the dreaded leadoff walk.
Next: Drury more than a stopgap to Manny Machado
""I want to show I can pitch at this level. I know I can, just have to show it,'' Sheffield said. "There were some positives and some things I have to work on.''"