The Yankees are getting a closeup look at Shohei Otani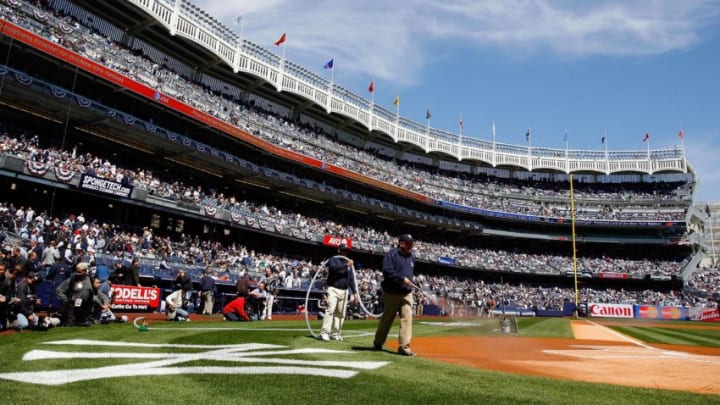 (Photo by Jim McIsaac/Getty Images) /
Are the Yankees gearing up for a run at Shohei Otani? One has to wonder. Because, it was reported that the Stealth Ninja, one Brian Cashman, made his way to Japan to witness for himself the "Phenom" know as the Japan's Babe Ruth.
The Yankees and Red Sox are in the process of accumulating the largest amount allowed for international bonus pool money. But why? It appears that the cat is out of the bag. The more bonus money, the more you can offer an individual player. It is that simple. They both want Shohei Otani!
These two juggernauts, in the international field of talent, are in competition for none other than Shohei Otani. They are not alone, recently the Rangers, Dodgers, and Padres all have scouted the Japanese two-way star very heavily.
Why so much interest? Here are some stats from his five-year career, in Japan. Shohei Otani has a batting slash line of .285/.356/.501 with some 45 home runs and 156 RBI's in 382 games. As a pitcher, Ontani has a record of 39-14, with an ERA of 2.55. With a WHIP of 1.073 and 10.9 k's per nine innings.
More from Yanks Go Yard
Not bad for a 23-year-old whose numbers keep getting better and better each year. This is a right-handed pitcher who bats left-handed. Shohei Otani is one of the few who has ever excelled as a pitcher and a hitter at such a high level of competition.
This is a rare talent. He plays right field, DH and is a starting pitcher.
Will the Hokkaido Nippon Ham Fighters post Otani? They have $20 million reasons to do just that. No matter what, that is the largest amount they ever will receive under the new regulations for international posting.
While to Shohei Otani, it is all about the competition. The Japan Babe Ruth is reportedly ready, to try the best competition in the world. That, of course, is in American.  Because, just like every baseball playing kid around the world, his dream is to play in the big leagues.
Almost, always something to keep in mind. If he waits two more years, to come to the states, Shohei Otani does so as a free agent without international restrictions.
By waiting  those two years, Shohei could be a free agent similar to how Masahiro Tanaka was. Ontani will be able to go to the highest bidder without any restrictions on the amount in which a team can pay for his services. Therefore, he might get as much as $300 million or more like an actual free agent.
The smart money is on him signing a major league baseball contract, which has an opt out clause. This would allow him to return to the market around his 25th birthday and have no restrictions on his earning potential.
Next: Yankees: CC Sabathia is mad at Red Rox for bunting
I invite you to share your thoughts and comments in the comment section, about this article. Please feel free to comment on anything about the New York Yankees on Yanks Go Yard Facebook page.