Yankees: Who's in line to get a ticket to the Bronx next Thursday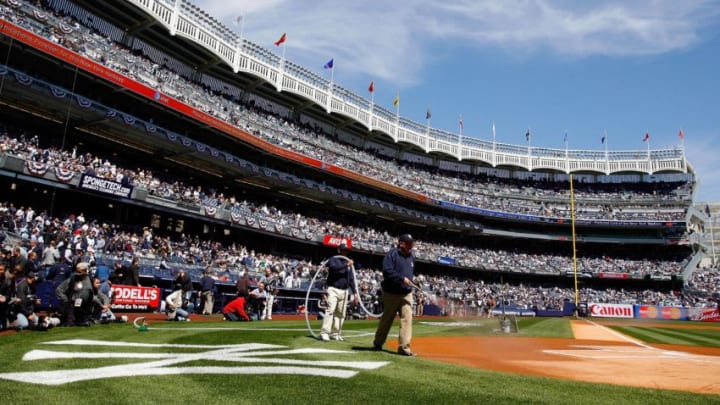 (Photo by Jim McIsaac/Getty Images) /
The Yankees, as a team in a pennant race, are not likely to load up to the full complement of 40 players when the roster expands. But, who will those lucky few be?
The Yankees have their hands full trying to win the AL East or, that fails, solidifying their standing as the number one seeded Wild Card team, which would grant them home field rights in the one game shootout against the second team.
As such, call-ups at this stage of the game are both a help and hindrance for Joe Girardi to deal with.The old proviso in baseball that you can't have enough pitching will be a help, but too many position players in the mix are another matter as he tries his best to find playing time for everyone, while still fielding the team with the best chance to win.
(Photo by Bob Levey/Getty Images) /
Conversely, teams like the Tigers and the Mets don't have this problem since they are just playing the season out, and they need to use the month of September to evaluate the top level of their minor league talent in the big leagues.
For other teams, it's simply a matter of money when it comes to deciding how many players they call up for two reasons. One, each player begins to earn a prorated salary of the major league minimum of $455,000. And two, the clock starts ticking toward their arbitration and free agent years.
So, assuming that the Yankees are not going to pinch pennies, but are mindful of the fact they're in it to win it, these are my picks for the players you'll see wearing Pinstripes next Thursday, just in time for the four-game series with the Red Sox.
Chance Adams
Chance Adams just turned 23 and has been in the Yankees system for only two seasons. He began the 2017 season at Double-A Trenton but was quickly promoted to Triple-A Scranton after going 4-0 in Trenton.
Chance Adams (Photo by Elsa/Getty Images) /
At all levels of the minors he has played at, his overall record is 30-6 with an ERA of 2.34. How could you not like this guy?
That's a question the Yankees have never adequately answered except to say things like (paraphrasing) "He needs more time to develop a command of his pitches."
Which causes one to wonder if the Yankees know something about Adams making them reluctant to pull the trigger before this, calling on Luis Cessa and others to fill a void when injuries brought down Michael Pineda, CC Sabathia, and more recently Masahiro Tanaka.
Whether the issue is, in fact, command or something else like a poor work ethic or something in his personality that concerns them, to shun him now would be a slap in the face and a forebearer to a disillusioned and, therefore, very tradeable pitcher.
Billy McKinney
The best place to find reasons why outfielder, Billy McKinney is on his way to the Yankees is by reading my colleague Mike Calendrillo's column, published today on Yanks Go Yard. You'll see why he's a lock for a call-up next week.
Miguel Andujar
Third-baseman Miguel Andujar, who's having a solid year at Triple-A Scranton is another player who has earned a cup of coffee in the major leagues.
More from Yanks Go Yard
Limited to only 46 games after he was promoted from Trenton where he hit .312, Andujar has hit for a .330 average and an on-base percentage over .400. with the Railriders. In Spring Training, he was in competition for a spot on the team, but that role was eventually given to Ronald Torreyes.
Much like McKinney, Andujar would present a challenge for Girardi in finding him some playing time with the presence of both Todd Frazier and Chase Headley.
Still, if the Yankees are pledged to giving spots to players who have "earned it," Andujar easily qualifies.
Jack Cave
Jack Cave is another outfielder who has caught the attention of baseball people. Also playing at Triple-A Scranton, Cave has turned in a season highlighted by a .335 batting average with some pop driving in 35 runs backed by 14 home runs.
Again, for an in-depth profile, read more about Cave in a YGY column penned by Mike Calendrillo.
Caleb Smith
Caleb Smith has been a pitcher in the Yankees system since 2013. This year, he has blossomed with Triple A Scranton going 9-1  with a 2.39 ERA. At 26, Smith is 33-24 with a 3.19 ERA in five minor league seasons.
The Yankees might want to give him a look-see now, rather than wait for Spring Training next year, with the possibility he could be used in a trade during the off-season.
Justus Sheffield
Justus Sheffield was included in the deal that sent Andrew Miller to the Indians last season. He impressed during Spring Training earlier this year, but at 21, the Yankees did not hesitate in sending him to Double-A Trenton where he has spent the 2017 season.
His record of 7-5, 3.09 is good, but not earth-shattering. Like Caleb Smith, the Yankees could call him up with the intention of giving him a start or two when the pennant chase has settled down, and the team needs to rest their starters.
Otherwise, his bullpen sessions will be the only opportunity he gets to show the progress he's made to the Yankee's coaching staff.
And that's all she wrote
To reiterate, even players like Smith and Sheffield are longshots to be early call-ups next Thursday. The Yankees and, in particular, Joe Girardi, have enough complications to deal with at the moment, without adding to them.
Greg Bird needs to be weaned into the lineup, as does Starlin Castro and Matt Holliday when they return. Girardi also needs to set his rotation for the playoffs, timing it, so everyone has ample rest but is still firing on all cylinders when their turn comes up.
Girardi also has no set lineup and is still experimenting with the placement of Aaron Judge, Gary Sanchez, and Didi Gregorius in the batting order.
A more informative and detailed look at a final report on the Yankees farm system can be found in the next post, written by YGY feature story writer, Cory Claus.
Next: Yankees farm report: Summer is ending, harvest just beginning
Bottom line, don't expect to see a lot of changes in the Yankees clubhouse until they get this thing firmed up.
As always, I invite you to share your thoughts and comments about this story or anything Yankees on the Yanks Go Yard Facebook page.