Yankees: Tanaka pitches well enough to lose, Bombers drop series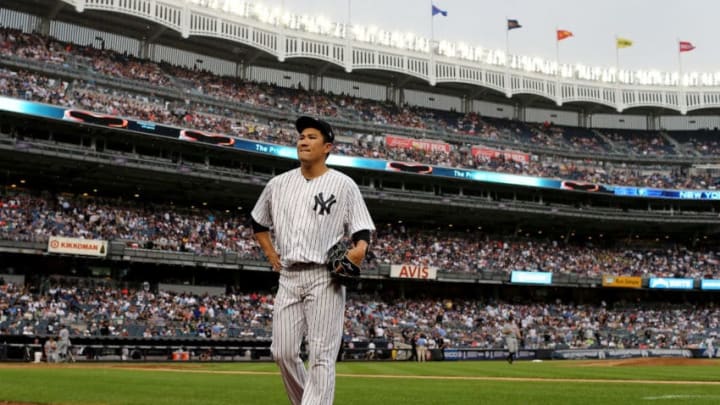 NEW YORK, NY - AUGUST 02: Masahiro Tanaka (Photo by Elsa/Getty Images) /
The Yankees finished a disappointing series with the Detroit Tigers at Yankee Stadium this afternoon, losing two of three after capturing the first game, Monday night. Now, it's on to Cleveland.
Yankees starting pitcher, Masahiro Tanaka waited through a one hour and five-minute rain delay before taking the mound to face the Detroit Tigers. The Tigers waited only about two minutes, though, to strike for three consecutive hits by the first batters to face Tanaka, scoring two in the top of the first.
Following last night's inability by CC Sabathia to get off to a good start, this marks the second consecutive game in which the Yankees found themselves behind by the end of the second inning. That much is on the pitching staff, but what about the offense?
The offense continues to be a sad story for the Yankees, especially with men on base. In the bottom of the sixth for example, Aaron Judge opened the inning with a single, and he was followed by Gary Sanchez, who doubled to left putting Yankees on second and third with nobody out.
Result? No runs scored as Jordan Zimmermann shut the door getting Didi Gregorius on a pop out to shortstop, Matt Holliday on a fly ball to center, followed by Chase Headley on a swinging strike three.
Tanaka's effort resulted in receiving credit for a Quality Start, finishing six innings, allowing only those two runs, one of which was unearned on a bobble in the outfield by Jacoby Ellsbury. Tanaka struck out seven and threw 70% of his 100 pitches for strikes.
A sputtering offense
The Yankees offense is sputtering, and the timing of it happening now is not okay as the team moves into Cleveland for a four game series beginning on Thursday night. The only good news, though, is the Indians have lost three in a row before they play tonight in Boston to conclude that series.
Matt Holliday still has not found his stroke since returning to the team from an undiagnosed illness, and it could be that if his weak hitting continues, he'll be the odd man out when Aaron Hicks returns sometime next week.
More from Yanks Go Yard
Aaron Judge continues to chase balls out of the zone and has seen his batting average dip from a high of .334 before the All Star Game to a point where he was under .300 at one point during the game today.
With Judge, it's a matter of making adjustments to counter the adjustments pitchers are making on him. Word gets around fast in this league, and as a result, Judge is seeing the fastball only as a "show it to him" pitch, which is then followed by breaking balls off the plate.
He'll get through it, and that's why you don't see any signs of panic or even talk about it from Yankees Manager, Joe Girardi, who maintains every confidence in his young slugger. Still, he's a big part of the offense when he's not contributing.
Not to worry, though
As a whole though, the team was buoyed by the trades which brought quality relievers and starters to the team. The excitement level will be high, and a large TV audience can be expected when Sonny Gray and Jaime Garcia make their first starts against Cleveland,
Next: Crucial decisons facing the Yankees in August
Not too much has been heard from Garcia, buy Gray was bubbling with enthusiasm during his first meeting with the press before last night's game, telling the New York Daily News:
""I'm ready. I'm ready to take the mound whenever is necessary and go out there and compete," said Gray. "Where I'm pitching at or wherever, whatever happens, there's gonna be a lot of other guys out there with me, that are really good players. It's gonna be a really good transition for me.""
Things might have gone better for the Yankees, and they probably should have. But the team is playing well, and they're just not hitting the ball. It happens.