The Yankees ten best prospects still playing in the minors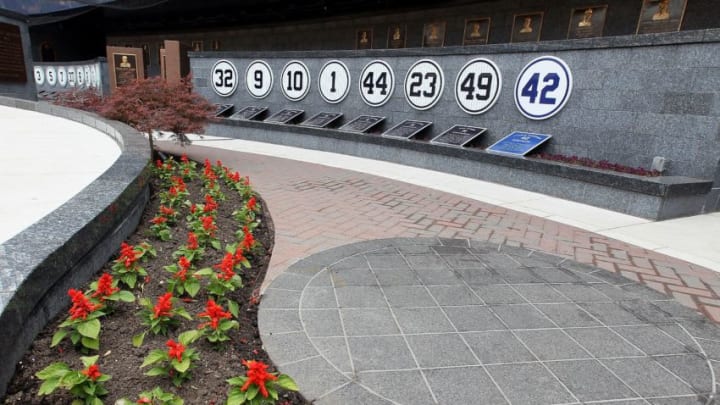 (Photo by Jim McIsaac/Getty Images) /
(Photo by Kevin C. Cox/Getty Images) /
Gilliam is not hitting for a great average, slashing only .253/.334/.435. But the 20-year old is already flashing some power potential, hitting ten home runs last year and eight so far this year. That puts him in the top 25 in the South Atlantic League. It also promises more to come as he ages.
He and Vidal are mirror images, regarding power and BA. I ranked Gilliam's power as more promising than Vidal's BA. Still, neither projects as a major league player right now.
This might surprise some because Mesa is a pure relief pitcher. Most rankings value starters, assuming those that fail will be the best relievers. But Mesa has thrown 39 innings so far and posted a 2.09 ERA and WHIP of 0.91 with 50 strikeouts. And Mesa not only is shining this year but also has a great track record. He has an outside shot of being a September call-up. And we will see him next year.
Nestor has mostly high numbers. The 22-year old has an ERA of 2.83 and WHIP of 1.07 for his 48 innings of work at Trenton. That goes along with his 44 strikeouts. Last year he finished the season with a 1.53 ERA, which is great. But he only pitched 106 innings in 2016 as the Yankees try to decide if he is a starter or reliever.
Now Cortes is at Triple-A, where he is being used as a relief pitcher, with mixed results. He has a 1.93 ERA but a WHIP of 1.50 with eleven hits in nine innings. It's a small sample size, and he is likely to improve. If he does, he will wear pinstripes in September.
Tito looks better every year. He was just promoted up from Tampa, where he hit .283/.341/.429 with four home runs in 233 AB's. But he also had 62 strikeouts. The 22-year old Polo is making the most of his promotion by slashing an unsustainable .500/.545/.733. He has also already picked up a home run in his 30 at-bats. Tito came over last year in the Ivan Nova trade and looks like a real prospect. Expect to see his name in a trade package.
Domingo is hard to rank, and I could have put him almost anywhere on this list, even in the top ten. He has mostly pitched at Double-A this year, where his numbers make him the Yankees best prospect. In 45 innings, Acevedo amassed a 1.39 ERA and 0.93 WHIP with 47 SO. And he throws 103 mph. That got him named to the Futures Game as only one of two Yankees in the entire organization.
But in that game, he gave up three runs in one inning. And in his Scranton tryout, he posted a 4.38 ERA and 1.62 WHIP, with 12 hits in 12 innings. However, Domingo projects at least as a quality reliever, although I'm guessing dominant. And he could still be a front-line starter. That's good enough for number eleven on this list.
Now on to the top ten.