The Yankees ten best prospects still playing in the minors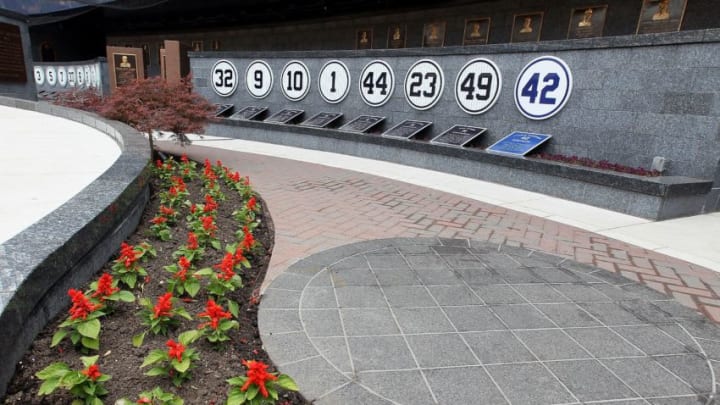 (Photo by Jim McIsaac/Getty Images) /
(Photo by Mike Stobe/Getty Images) /
Cave has been an up and down player over the years. Jake was at Triple-A two years ago and was claimed in the Rule Five Draft by the Cincinnati Reds. But they returned him, and he seemed to play worse. His promotion to Scranton comes only because of all the big league call-ups and injuries.
And he is killing it at Triple-A: .326/.376/.651 with seven homers in 86 AB's. But his Trenton stats are not so great: .266/.317/.516 in 128 AB's.
Cave is making the most of his second chance, but he is not a true prospect anymore.
McKinney is 22 and slashing .395/.439/.789 with four home runs in 38 at-bats; that's the good news. The bad news is that he was just promoted from Trenton, where he hit .250/.339/.431 with six home runs in 232 AB's.
Billy, like Cave, is a streaky hitter but has two things going for him: he is a first round pick, and he is on a hot streak at Triple-A. He is more likely to get called up than many players ranked higher on this list.
The 25-year old Smith does not have an excellent track record and has never been a ranked prospect. He also pitched to a 3.96 last year at Double-A. But he is in Scranton this year and doing great. In 15 starts, he has a 2.07 ERA and a WHIP of 1.00, allowing 63 hits in 87 innings. It is hard to imagine we even see Smith pitch but his performance puts him on this list.
Clarkin has always been a highly regarded pitcher. And his numbers this year reflect that, as he has put up a 2.62 ERA and 1.22 WHIP. He has given up only 56 hits in his 65 innings pitched, while striking out 50. The problem is his health. Last year he pitched 98 innings, and that was the most in his professional career. He is on pace to record more this year; if he does, he will move up this list.
Carlos has a great slash: .297/.352/.339. But the 21-year old has no power, as in zero home runs so far this year.