Yankees: It's getting harder to hide behind those lying eyes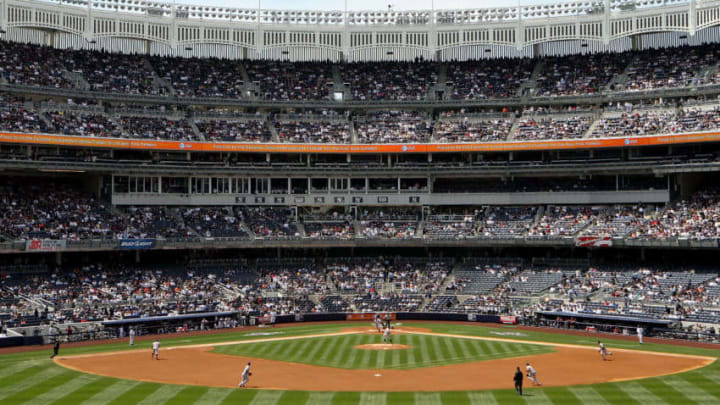 (Photo by Ezra Shaw/Getty Images) /
The Yankees continue to make it difficult, and on days like yesterday almost impossible, to see their upside with any sense of comfort. Numbers don't lie, and neither do the standings. This is a team in freefall.
The Yankees stumble into Yankee Stadium tonight to host the Blue Jays with a 4-6 record over their last ten, and 13-17 since June 1. At one point in the season, they were twelve games over .500, now, they're only six over and three full games behind the division-leading Boston Red Sox, who are 7-3 and 18-12 over the same span.
Okay, so we say we'll give the team a pass on a division title since they were supposed to be a Wild Card team, at best, when the season began. Sorry, the numbers don't lie here either.
The Yankees, when play starts today, hold a two-game advantage for the top Wild Card spot. But here's the bad news. The Rays, Orioles, Royals, Twins, Angels, Mariners, and Rangers are all within two games of reaching the Yankees. Count 'em. That's seven teams all in the hunt.
Spin this thing no more
The thing is this. As a writer and fan of the Yankees, most of us attempt to put a positive spin on the team, even when times get tough. And when our lying eyes tell us that the rotation stinks, we turn our attention to the lone bright spot, Jordan Montgomery, who was just selected to the AL All-Star team.
Or when we see a long trail of hamstring and oblique injuries causing the loss of CC Sabathia, Starlin Castro, and Aaron Hicks to lose significant time, we call it bad luck, even though there is considerable research that points to improper pre-game routines and exercises as a means of preventing some of these injuries.
If the Boss were alive today, there would be thunderbolts striking the Yankees clubhouse, and he would have Cashman strapped into a chair with his phone tethered to his mouth
And when we see a player like Tyler Clippard implode game after game as Joe Girardi insists that he's only going through a tough time.
This, in spite of Albert Einstein, having explained for us that the definition of insanity is doing something over and over again and expecting a different result.
Or, and you realize I could go on for days here when we see Girardi go public calling on Brian Cashman to do something with Chris Carter because he can't take it anymore. And Cashman promptly responds DFA'ing Carter only to have him return to what must have been a startled clubhouse in a matter of days because the Yankees still don't have a real first baseman, even though it's July.
More from Yanks Go Yard
And we get goosebumps when we see the Baby Bombers being called up one by one to play their first games wearing the Pinstripes. But we conveniently forget the fact that this wasn't the plan at all at the start of the season. And that only Aaron Judge and Montgomery made the 25-man roster, having been judged to be the only ones who were major league ready.
And then we compound everything by buying into our crosstown rivals, the Mets, as being the only dysfunctional organization in New York City. And we wonder how they can (still) believe that Jose Reyes, Curtis Granderson, Travis d'Arnaud, Rafael Montero, and a host of others are the answers to all their prayers.
This, while the Yankees continue to get a pass from many of us and certainly the New York media.
Sorry, no more passes
If the Boss were alive today, there would be thunderbolts striking the Yankees clubhouse, and he would have Cashman strapped into a chair with his phone tethered to his mouth, making calls with pre-signed checks to get the job done.
Instead, we see what only can be termed complacency from Hal on down. It hasn't touched the players yet, but shortly, it will. The players aren't stupid, and they can look around to see that there are vacant seats in the clubhouse that need to be filled yesterday. And like all teams at this juncture of a season, they are looking to the front office to fill them with genuine major league talent.
The days go by, and we get a preview peek at Clint Frazier,  Miguel Andujar, and the like. But what we don't get is an arm that can slide into the one or two spot in the rotation, or a couple of proven middle relievers, or dare I say it, a real first baseman.
Dysfunctional? Not quite yet. But the Yankees are sure working hard to get there.