Yankees: Fixin' A Hole In Their Offense Is A Must In 2017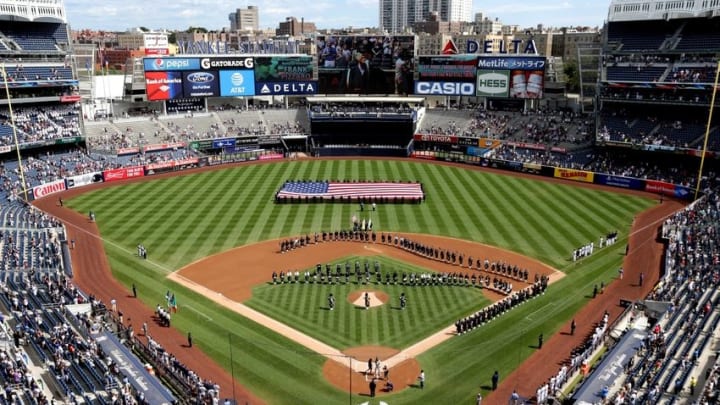 Mandatory Credit: Andy Marlin-USA TODAY Sports /
The Yankees aren't known as the Bronx Bombers for anything that their history doesn't support. I get that. And they'll hit their share of home runs again this season. What's troubling, though, is the prospect that most of those home runs will come with no one on base. The 2016 team struck out too much and didn't walk enough. That needs to be fixed, and the best place to start is in Spring Training.
The Yankees need to score more runs in 2017 that they did last year, a season that saw them average just a hair over four runs per game (4.19). If that happens again, it's not likely that the starting pitching staff can absorb the pressure, unless Masahiro Tanaka pitches every day.
Before the 2016 season began, hitting coach, Alan Cockrell, showed that he was already worried about the Yankees offense for the upcoming season, telling the YES Network:
""We were a home run dominant club (in 2015), and I love home runs as much as the next guy, probably more, but there needs to be a little added dimension to us offensively," Cockrell told the media in a Wednesday conference call. "We have guys that can hit homers, but we also have guys that can manipulate the bat a little bit, and we have guys that can use the field.""
The Yankees didn't get that kind of production last season. Despite having a great year overall, Didi Gregorius cannot strike out 82 times while drawing only 19 walks in almost 600 at-bats. Aaron Hicks can't post another .281 on-base percentage. And Starlin Castro can't strike out 118 times and draw only 24 base-on-balls.
Cockrell expanded on his thinking adding:
""There are times and situations in ball games where you are afforded the luxury of, I'm going to let it eat and I'm going to try to hit a homer," Cockrell said, "but then there are times when you say, we need a guy on base. We need to move a runner from second to third. We've got to be willing to hit a ground ball to second or short with a guy at third and the infield back in the fourth inning, a run you don't have to get off the back end of a bullpen later in the ballgame.""
The Yankees Need Subtle Changes In Their Offense
Okay, there is no way the Yankees are going to play "Billy Ball" this year, nor should they need to mimic the Billy Beane formula. But, they do need to draw more walks. Brett Gardner did a credible job last season (.351 OBP), but even he needs to do better. The rest of the team, though, sucks (pardon me). A team on-base percentage of .314 just doesn't cut it.
More from Yanks Go Yard
Remarkably, though, Yankees opponents last season had an OBP of only .310. So, go figure. Still, that shouldn't deter Alan Cockrell and Joe Girardi from taking to the soapbox preaching the need for more patience at the plate when Spring Training convenes in a couple of weeks.
Having men on base cause the pitcher to work under stress. Having speedy runners on the bases like Gardner and Jacoby Ellsbury causes the pitcher to work that much harder, creating what they call "stressful innings," especially for a starting pitching. Not only do you build up his pitch count, but you force the pitcher to throw strikes that can easily reach the fat part of the plate.
In his brief stay with the Yankees in 2015, Greg Bird did show signs of becoming a Paul O'Neill type hitter in the lineup, posting a .343 on-base-percentage. But at the same time, he did strike out 53 times in only 178 plate appearances.
Gary Sanchez is going to have enough challenges as a hitter this season without adding the problem of having him come to bat with no one on base. Pitchers are going to be testing him daily to see how wide and how high his "strike zone" can get. If there is no one on base in front of him, he is relegated to only hoping that the pitcher makes a mistake.
Ditto for Aaron Judge, whom Cockrell has indicated will be one of his prime pupils this season. It's a learning process for both Sanchez and Judge, and they will adapt and learn as time goes on. They have too much talent not to. The difference for the Yankees, though, is that both men will be in the starting lineup on a daily basis from day one, on the Yankees 25-man roster.
Some Yankees Will Be "On The Bubble."
And the season can get old rapidly if adjustments cannot be made in a timely fashion. Gary Sanchez appears to be safe in his job, and most expect that he will experience some a "Sophmore Slump" along the way. But others, like Greg Bird, Aaron Judge, and Tyler Austin will be on the bubble and watched closely before the season gets out of hand if indeed it goes in that direction.
Next: Alan Cockrell Ready For Challenge As Yankees Hitting Coach
For now, though, let's hope that Alan Cockrell can work some magic with this team, convincing them of the need to be (more) patient at the plate. Because, in 2017,  the Yankees can't afford a repeat of the 2016 offensive numbers.