Yankees 2017 Schedule Announced: Here Are the Highlights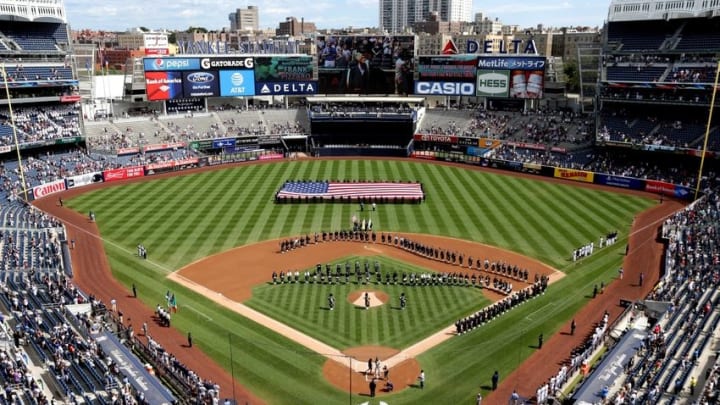 Sep 11, 2016; Bronx, NY, USA; A general view during the national anthem prior to the game between the New York Yankees and the Tampa Bay Rays at Yankee Stadium. Mandatory Credit: Andy Marlin-USA TODAY Sports /
Major League Baseball released the master schedule for the 2017 regular season on Wednesday. Here's a look at what New York Yankees fans need to know about the upcoming season.
The New York Yankees will open the 2017 season on April 2nd against the Tampa Bay Rays. The match up will be televised by ESPN to celebrate the 20th anniversary of the Rays franchise. The Arizona Diamondbacks opener against the San Francisco Giants will also get the national TV treatment. No times have been announced for any of the games yet.
New York's home opener will also be against the Rays, but it's not until over a full week later on April 10th.
Probably the biggest news here is that the Yankees will be facing off against the National League Central clubs in interleague play next season. The NL Central has had some of the toughest and most talented teams in baseball in recent years, so there should be some really fun match ups.
More from Yanks Go Yard
The St. Lous Cardinals will be first up, with a series in the Bronx from April 14-16. The Milwaukee Brewers and Cincinnati Reds will also both travel to the Big Apple in July. The Brew Crew will visit July 7-9 and the Reds from the 25-26.
The Yankees will head out on the road for rare trips to Pittsburgh (April 21-23), Chicago (May 5-7), and Cincinnati (May 8-9) as well.
From August 14-17, the Yankees and Mets will once again split a four game Subway Series between the Bronx and Queens. The two rivals each won two contests this season, which makes it tough to declare the true champion of the city. I'm sure I'm not alone in wanting a return to the pair of three game sets the New York teams used to play annually.
On April 15th, teams around the league will celebrate the 70th anniversary of Jackie Robinson breaking the color barrier by holding "Jackie Robinson Day." Other highlights from around the league include an Opening Day rematch of the first World Series, the inauguration of SunTrust Park in Atlanta, and the 88th annual All-Star Game being held on July 11th at Marlins Park in Miami.
Next: What are the Yankees Greatest Areas of Need this Offseason?
There are also several anniversaries of note for Yankees fans next year. October will mark 40 years since Reggie Jackson's famous three-homer game in the 1977 World Series. Additionally, next year will be the 90th anniversary of the 1927 Yankees, believed by many to be the greatest baseball team in history.