New York Yankees Exploring the Starting Pitching Market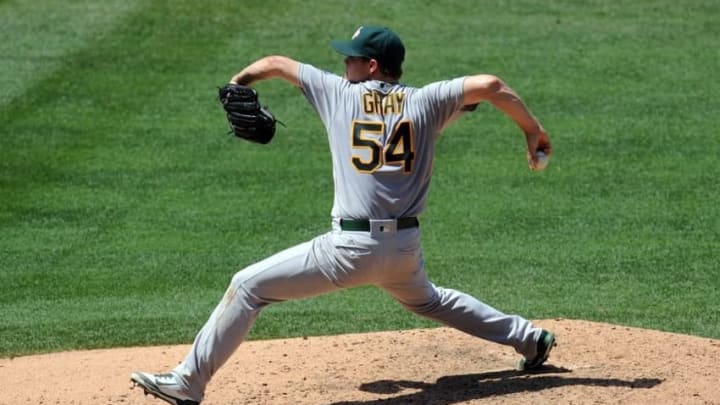 June 26, 2016; Anaheim, CA, USA; Oakland Athletics starting pitcher Sonny Gray (54) throws in the sixth inning against Los Angeles Angels at Angel Stadium of Anaheim. Mandatory Credit: Gary A. Vasquez-USA TODAY Sports /
The New York Yankees are among the clubs reportedly looking to add starting pitching before the August 1st trade deadline according to Jon Heyman of Today's Knuckleball.
Despite continued rumblings that the New York Yankees should be selling off veteran assets at this year's trade deadline, Jon Heyman of Today's Knuckleball reports that they may be more focused on adding to their roster rather than subtracting. Heyman writes the "word around the game" is that New York owner Hal Steinbrenner and president Randy Levine are both strongly opposed to selling, despite general manager Brian Cashman advocating for the idea. Later in the article, the Yankees are listed as one of nine clubs currently exploring the starting pitching market.
Of course, the fact that the New York Yankees are interested in adding starting pitching isn't diametrically opposed to the idea of selling at the deadline. They could target young, controllable starters in deals for rumored trade chips Aroldis Chapman, Andrew Miller, and/or Carlos Beltran.
On the other hand, the most prominent starting arms on the market will require trading elite young talent in return. Sonny Gray, Drew Pomeranz, and Julio Teheran are in their prime and each come with at least two years of team control. Veterans like Rich Hill and Francisco Liriano are the other big names expected to be moved before the trade deadlive, but are likely of less interest to the Yankees due to their age and expiring contracts.
| Name | Age | Team Control | IP | ERA | K/9 | BB/9 |
| --- | --- | --- | --- | --- | --- | --- |
| Sonny Gray | 26 | Through 2019 | 78.2 | 5.03 | 7.2 | 3.3 |
| Drew Pomeranz | 27 | Through 2018 | 88 | 2.76 | 10.4 | 4 |
| Julio Teheran | 25 | Through 2020 | 106 | 2.46 | 8.4 | 2 |
Related Story: Can the Yankees and Braves Link in a Julio Teheran Trade?
Brian Cashman had previously discussed the idea that the New York Yankees might act as both "buyers and sellers" at the trade deadline this year. One way they could do that is by selling off their expiring contracts for young talent, but using other prospects to acquire an established ace like Gray, Pomeranz, or Teheran. This could prevent the backlash that would presumably come from the Yankees having an outright firesale and could even improve their chances of contention in 2016 if done correctly.
Landing a big fish would almost certainly mean moving young talent like Jorge Mateo, Aaron Judge, Luis Severino, and Gary Sanchez, which the team has been hesitant to do. The Yankees could attempt to speed up their rebuilding window by dealing from the lower levels of their minor league system. High-ceiling, but far-off talents like Mateo, Wilkerman Garcia, and Domingo Acevedo could be less painful to part with than guys on the cusp of the majors like Judge and Sanchez.