Is Andrew Benintendi really the answer for Yankees in left field?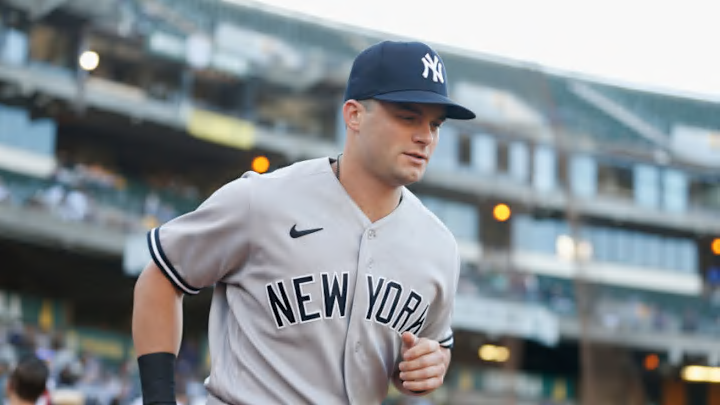 OAKLAND, CALIFORNIA - AUGUST 26: Andrew Benintendi #18 of the New York Yankees prepares in the dugout before the game against the Oakland Athletics at RingCentral Coliseum on August 26, 2022 in Oakland, California. (Photo by Lachlan Cunningham/Getty Images) /
When Joc Pederson accepted the qualifying offer from the San Francisco Giants, the New York Yankees lost a very realistic left field option for the 2023 season. At a cost-effective price, he would've provided offense/clutch hitting from the left side of the plate they badly needed.
Now, that vacancy in left field feels a lot bigger with fewer options available. Folks are trying to play mix and match with guys like Brandon Nimmo, Mitch Haniger and even Cody Bellinger, but are any of those options even on the table? Nimmo wants to get paid, so his value will be in center field. Bellinger is also a center fielder and wants a one-year prove-it deal. Haniger is a right fielder.
Is there even a concrete answer? Fans seem to really want Andrew Benintendi back … but it's unclear why. He played in a very subpar 33 games for the Bombers following the trade deadline before fracturing his wrist and missing the rest of the season. What did you see over that span to convince you he warrants a three-year contract in the $13-$16 million AAV range, which many insiders project him to earn?
Benny's resurgent 2022 season was encouraging, but almost all of that success was achieved with the Royals (2.5 WAR in 93 games with KC vs 0.7 WAR in 33 games with NYY). We continue to hear about his defensive prowess, but since 2019 he's been good for 8 Defensive Runs Saved, -9 Outs Above Average, and a -0.2 dWAR. He famously does not have a strong arm, either.
As for his bat, the contact-heavy approach is encouraging, and it's what the Yankees theoretically need. He hit .304 in 2022 (though just .254 with New York), which was a career high for him. That, precisely is the worry. Benintendi's next best season was Boston's disingenuous 2018 World Series run that was clouded with sign-stealing controversy. Benny hit .290 that year and .271 the year prior. His career average is .279.
Is Andrew Benintendi really the answer for the New York Yankees in left field?
During his 1.5 years with the Royals, Benintendi turned a corner with his strikeouts. Previously, in Boston, he whiffed 400 times in 485 games, good for a 19% rate. In KC, he struck out just 149 times in 227 games, which was a 16% rate. But then he was fanned 25 times in just 33 games after becoming a Yankee (back up to that 19% rate). Yes, a small sample size, but this is a version of Benintendi the world has seen before. The struggles may have just been dormant.
If you care for some other advanced metrics, his career OPS+ is only a 109, he's in the 25th percentile for barrel percentage and 43rd percentile for hard hit percentage, and isn't as fast as you think he is (53rd percentile for sprint speed and 61st percentile for outfielder jump).
To bank on the 28-year-old executing a mid-career turnaround in his approach at the plate after just 93 games of proof seems like a wild gamble. How about this exercise, though? Would you pay Alex Verdugo similar money when he becomes a free agent?
Because here are their offensive and defensive numbers side by side for their careers:
Benintendi – .279/.351/.431 with 73 HR, 384 RBI, 109 OPS+, 15.7 WAR, 0.7 dWAR in 745 games
Verdugo – .286/.341/.431 with 44 HR, 201 RBI, 107 OPS+, 8.5 WAR, 0.2 dWAR in 509 games
Assuming Verdugo continues on his trajectory for another 1.5 seasons, he's right on par with Benintendi. Wouldn't you rather an Ian Happ? AJ Pollock? A gamble on Michael Conforto?
Don't us wrong, we'd take Benintendi. But the Yankees do not need him by any stretch of the imagination. There are plenty of other left fielders out there who'd more than likely put forth a better effort when examining what the Yankees are truly lacking.