Ranking Yankees' free agents as offseason officially arrives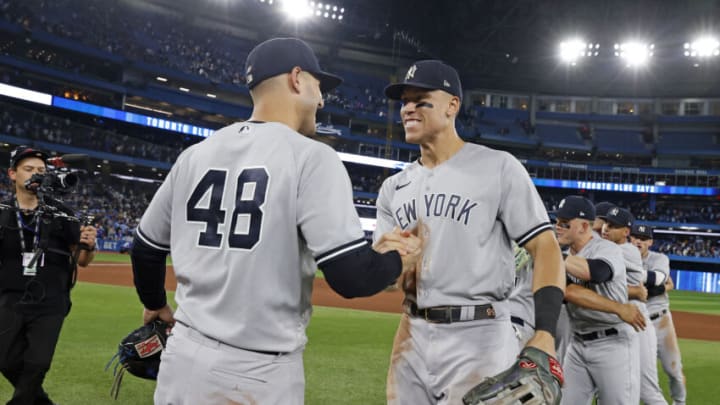 TORONTO, ON - SEPTEMBER 27: Aaron Judge #99 of the New York Yankees high-fives Anthony Rizzo #48 after defeating the Toronto Blue Jays to clinch first place in the American League East after the game at Rogers Centre on on September 27, 2022, in Toronto, Canada. (Photo by New York Yankees/Getty Images) /
Miguel Castro #30 of the New York Yankees (Photo by Elsa/Getty Images) /
7. Miguel Castro
The Joely Rodriguez for Miguel Castro swap was pretty much a nothing deal. But Castro was OK for the Yankees and was useful when he was healthy. His sweeping slider is an asset. He's a bit of a wild card coming out of the bullpen. He's either whiffing guys or he's all over the place. He can work himself in and out of trouble. He finished with a 4.03 ERA, 3.84 FIP, 1.45 WHIP and 31 strikeouts in 29 innings.
It's unclear what his market will be or if the Yankees will be involved, but if he could be had on the cheap, we don't see why Brian Cashman wouldn't make it happen.
6. Matt Carpenter
Matt Carpenter was a Yankees legend who quickly turned into a footnote thanks to a broken foot in August that had him rehabbing up until the start of the playoffs. When he was signed away from the Texas Rangers in May, the Yankees struck gold for two months. He hit .305 with a 1.138 OPS, 15 homers and 37 RBI in 47 games. Unbelievable.
But then he went 1-for-10 with seven strikeouts in the postseason — his first action since suffering the injury. It's not a bad idea to bring him back for depth purposes, but some other teams might be willing to give him a bigger role. The St. Louis Cardinals, his former team, have been pegged as a destination. There will be competition on the market. Don't think the Yankees get involved if there's even a small bidding war.
5. Jameson Taillon
One of the most reliable and effective starting pitchers in the league, Jameson Taillon will be a free agent after two seasons in the Bronx. He had a wildly up-and-down 2021 and then found consistency in 2022 — not exactly the No. 2-caliber type the Yankees were looking for, but it was very good.
The right-hander went 14-5 with a 3.91 ERA, 3.94 FIP, 1.13 WHIP and 151 strikeouts in 32 starts (177.1 innings). The Yankees said they would like to bring him back. It's tough to gauge his market among the league's other starters who will hit free agency.
If the price gets too high, the Yankees might not be able to stay in the race because they need to retain Aaron Judge, Anthony Rizzo, and hopefully this next guy.