Ranking Yankees' free agents as offseason officially arrives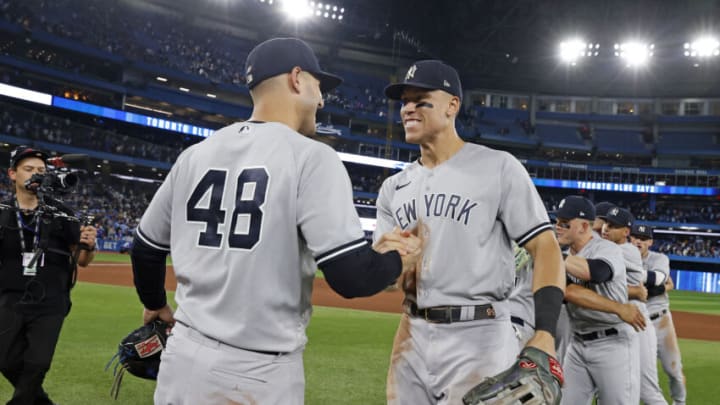 TORONTO, ON - SEPTEMBER 27: Aaron Judge #99 of the New York Yankees high-fives Anthony Rizzo #48 after defeating the Toronto Blue Jays to clinch first place in the American League East after the game at Rogers Centre on on September 27, 2022, in Toronto, Canada. (Photo by New York Yankees/Getty Images) /
It's not expected to be an exciting offseason for the New York Yankees, which puts fans in a tough spot. There's not much else the team can (or will) do other than keep their star players (Aaron Judge, Anthony Rizzo, Andrew Benintendi, Jameson Taillon) and hope for some bounce backs as well as limited injuries in 2023.
Or … Judge leaves and everything falls apart. The only way fans will be able to feel true happiness is if Judge and Rizzo are retained and the team opts to blow past the luxury tax threshold with some other marquee signings or trade acquisitions. That's not likely to happen, though.
Then again, New York was winning at a record pace when all was going smoothly. The trade deadline moves were supposed to simply fortify areas of weakness but they all suffered injuries or were limited as a result. Had one or two things broken the Yankees' way in the injury department, the entire tone here might be much different.
In the end, the depth wasn't enough. The ability to come through in clutch situations disappeared when October arrived. The managerial decisions made in a number of the playoff games were detrimental. There are still plenty of things holding this team back.
But the first order of business will be taking care of the guys who hit the open market after the World Series. It's imperative general manager Brian Cashman and the front office set the tone properly.
Ranking the Yankees' free agents as MLB offseason officially arrives
Aroldis Chapman #54 of the New York Yankees (Photo by Sarah Stier/Getty Images) /
11. Aroldis Chapman
10. Marwin Gonzalez
Must we elaborate here? He barely played. When he did, he usually only offered defensive help. He ate a postseason roster spot for a time and prevented Oswald Peraza from getting more reps. The Yankees can move forward with better, younger options. Get the 2017 Astros' imprint off this roster.
9. Zack Britton
Zack Britton was held onto in 2022 for two reasons. The first was that he's among the big wigs in the MLB Players Association and he was one year away from reaching his 10-5 rights. Had the Yankees ditched him, it would've made for an unsavory story. The second was that he underwent a less invasive Tommy John surgery that allowed him to return in 8-10 months rather than the standard 12-15.
Well, he returned alright. He was bad. He's cost the Yankees so much money since 2019 and there have been more bad memories than good. No shot he's back as the team tries to rebuild its bullpen.
8. Chad Green
Devastating for Chad Green. The right-hander needed Tommy John surgery in June. He's more than likely out for 2024. His contract year was this past season. Couldn't have been worse luck.
Green was a valuable reliever for the Yankees for most of his time in the Bronx, but his 2021 showing really tested the fans' patience. Maybe he returns on a small two-year deal, but the Yankees aren't worrying about 2024. They need to win now. Chad might be gone.