What happens if Yankees' weather ruins ALDS Game 2 vs Cleveland Guardians?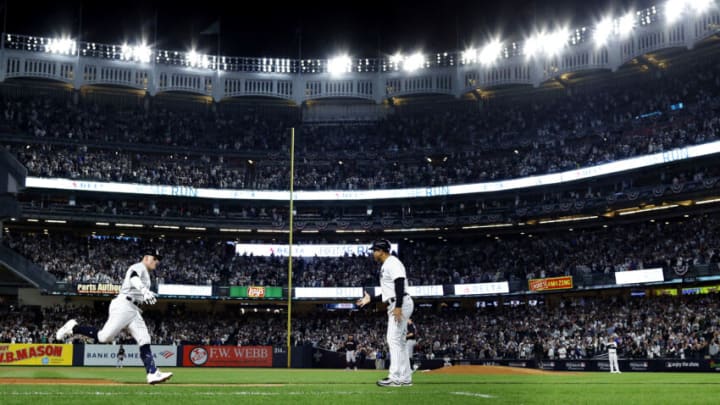 NEW YORK, NEW YORK - OCTOBER 11: Harrison Bader #22 of the New York Yankees celebrates after hitting a solo home run against Cal Quantrill #47 of the Cleveland Guardians during the third inning in game one of the American League Division Series at Yankee Stadium on October 11, 2022 in New York, New York. (Photo by Sarah Stier/Getty Images) /
Wednesday was a beautiful day for baseball in the Bronx, less than 24 hours after the Yankees defeated the Cleveland Guardians 4-1 in the series opener Tuesday night. Sadly, no baseball was played, by design.
Rob Manfred's newfangled playoff schedule has some kinks that still need to be worked out, including providing off days for the Yankees, Astros, Guardians and Mariners between Games 1 and 2, as well as Games 3 and 4. There is no off day between hypothetical Games 4 and 5, where transit between cities would become necessary.
This all means that, on the oft chance of a rainout Thursday after a perfectly lovely Wednesday, the Yankees would suddenly need to cram Games 2, 3, 4 and 5 into consecutive days, changing their pitching plan tremendously.
Game 2 would also, nightmarishly, likely become a day game, considering the team must then travel to Cleveland, and considering the scheduled NLDS slate features a 4:37 EST PM Game 3 between Atlanta and Philadelphia, as well as an 8:37 EST PM Game 3 between Los Angeles and San Diego.
Though the timing of said make-up game is all speculation, at the moment, the reality is that this series could get highly crowded. A day game would make all the sense in the world, but a washout might alter momentum for the Yankees (remember 2006 and 2011?).
2022 MLB Playoffs Schedule: Why Yankees weather report matters for Game 2
Nobody from New York wants to see the home team's advantage get neutered by a day game/opportunity for office workers to play hooky.
The weather forecast entering Thursday shows an 80% chance of rain by day, and a 90% chance at night. "Periods of rain early" is in the cards for the evening, which would make one hopeful of a delay rather than an outright cancellation. That said, the forecast is for "local heavy rainfall"; add in an entire day's worth of wet weather, and the field could be too waterlogged to try.
If the game does get cancelled, the Yankees will likely no longer be able to rely on a three-man rotation. As of now, Nestor Cortes Jr. will start Game 2, then be available on three days' rest for a potential Game 5. Gerrit Cole, who pitched on Tuesday, would start Game 4 on full rest. Cole's availability will not change, but if Cortes is forced to go Friday, there's no chance he starts on two days' rest in Game 5. Suddenly, in that case, Jameson Taillon seems poised to be plucked back out of the bullpen and used in Game 4, pushing Cole to the ultimate game.
Or, you know … the Yankees could just win the series in three or four, rendering all this scrambling moot.
The Guardians will have pitching conundrums of their own if the rain falls, losing Shane Bieber for a hypothetical Game 5 as well. No need to worry about which team will be more affected, though. The Yankees don't want to lose a night game and add an unnecessary rest/rust day. Simple as that.