Which of the rumored Aaron Judge contracts is best for Yankees?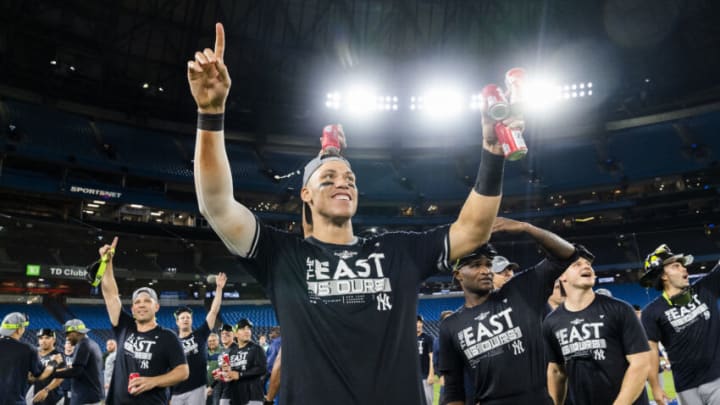 TORONTO, ON - SEPTEMBER 27: Aaron Judge #99 of the New York Yankees celebrates on field after their team defeated the Toronto Blue Jays to clinch first place in the AL East following their MLB game at the Rogers Centre on September 27, 2022 in Toronto, Ontario, Canada. (Photo by Mark Blinch/Getty Images) /
By now, if you haven't seen, ESPN's Kiley McDaniel (subscription required) polled 14 MLB executives about various free agency scenarios concerning New York Yankees star Aaron Judge. Where will he land? What kind of contract will he command? Should he be the highest-paid player in the league?
Judge's future contract has been widely discussed since the moment he turned down the Yankees' seven-year, $213.5 million extension before Opening Day. But nobody expected Judge to put together one of the best seasons in modern history in a contract year and make the Yankees' $30.5 million AAV offer look like chump change.
Now that everything's been flipped on its head, who better to ask than a bunch of executives staring down the barrel of yet again another historic free agency period? They might not know for sure, they might know best!
Rumors suggested, shortly after Opening Day, that Judge and his representation asked for 10 years and $360 million. Again, no idea if that's true but … we're surely much closer to that than we are the Yankees' $213.5 million offer.
So what'll it be? Judge signing a record/unique contract with the Yankees, or some other team throwing their hat in the ring with an offer New York can't/won't match?
Which rumored free agency contract for Aaron Judge is best for Yankees?
Here are the 14 possible Aaron Judge free agency contracts the executives polled relayed to McDaniel:
7 years for $259 million – $37 million AAV
10 for $265 million – $26.5 million AAV
8 for $280 million – $35 million AAV
8 for $280 million – $35 million AAV
8 for $300 million – $37.5 million AAV
7 for $301 million – $43 million AAV
9 for $320 million – $35.55 million AAV
8 for $320 million – $40 million AAV
8 for $328 million – $41 million AAV
9 for $333 million – $37 million AAV
9 for $335 million – $37.22 million AAV
10 for $340 million – $34 million AAV
10 for $341 million – $34.1 million AAV
10 for $375 million – $37.5 million AAV
Man oh man! So much to parse through here. On the surface, we'd guess the Yankees would rather fewer years and more money. That's why we're eyeing the seven-year, $259 and $301 million offers. The question is about the average annual value marks.
It's hard to envision Judge getting the $43 million AAV (aka short-term Max Scherzer money) on that $301 million contract simply because it's a long-term deal and he's a position player. But … that $37 million AAV on the $259 million offer would be right alongside Mike Trout ($37.116 million) and have Judge as the highest-paid Yankee on an AAV basis over Gerrit Cole ($36 million), as it should be.
Next up is the eight-year, $300 million deal, which would put him above Trout (and still below Scherzer). Eight years feels like the maximum the Yankees would be willing to go here since Judge is entering his age-31 season in 2023.
So here are the three that might best fit New York's plans and how much of a "raise" Judge would get from the eight-year, $230.5 million he rejected:
7 years, $259 million – $45.5 million raise
7 years, $301 million – $87.5 million raise
8 years, $300 million – $69.5 million raise
Think Judge deserves more years and money? You may be right! But considering his age, it's a bit of a different case. Now that we have AAV that could potentially solve some qualms over who's the highest-paid/among the top in that category, these seems to be the best contracts to satiate both parties' needs.