Yankees fans lose their minds, waste ketchup supply during rain delay vs Red Sox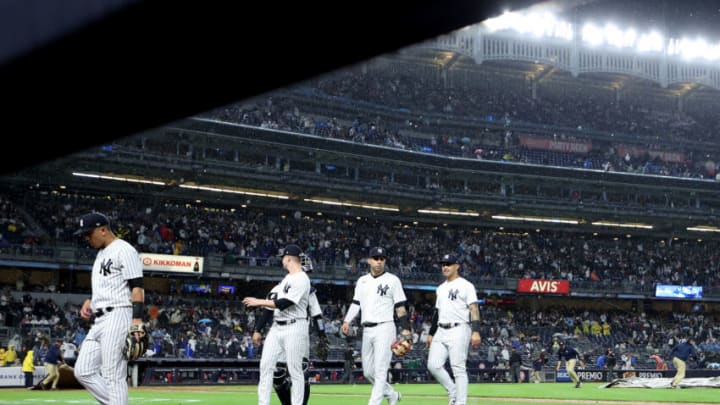 NEW YORK, NEW YORK - SEPTEMBER 25: The New York Yankees are cleared off the field as the tarp is put on the field to start the seventh inning and the game against the Boston Red Sox is in rain delay at Yankee Stadium on September 25, 2022 in the Bronx borough of New York City. (Photo by Elsa/Getty Images) /
On Sunday night, ESPN and MLB conspired to see just how far they could push the limits of safety in the name of getting Aaron Judge at least one more chance at his 61st home run on national television.
After nearly two hours of waffling, Sunday night's Yankees-Red Sox finale was eventually bagged. Alex Cora and Aaron Boone hugged, celebrating Cora's elimination from the postseason, a date that always seemed inevitable but almost seemed to arrive at warp speed this weekend. Both teams caught late flights to Boston and Toronto, though they were not as late as they could've been if the powers that be had chosen to extend the two teams' bizarre stasis semi-permanently.
The rain was set to clear up around 11:30, after all. Add in a half hour for basic field maintenance and another half hour for draining the full swamp that appeared on the warning track, and you just might've had a top of the seventh to be proud of sometime around 1:00 AM.
These shenanigans might've never taken place in any capacity if the home plate umpire had simply called the strike zone fairly against Oswald Peraza with two outs and one on in the rain-soaked bottom of the sixth. He should've been in the box with a 2-2 count coming off two hits, with Judge lurking behind him.
Instead, strike three was called way outside, the umpires and grounds crew decided to delay the game instead of cancel it on the oft chance the Yankees could part the seas and send Judge back to the plate to lead off the bottom of the next inning, and Yankee Stadium devolved into madness during the resulting two-hour wait for a moment that never came.
You know that meme of the tiny dominoes preparing to ultimately knock down the One Big Domino? That's basically what we had here. "Small Domino" equals "Bad Strike Call to Oswald Peraza," "Big Domino" equals "Man Bathing in Ketchup on Yankee Stadium Concourse."
Yankees fans lose their minds during rain delay, viral man bathes in ketchup
Almost nothing was disappointing about securing a four-game sweep to send the Red Sox home for the winter, but missing out on one more Judge AB was a bummer, as was the fact that this fan didn't seem to react at all to the "Mustard!" chants.
Come on, man! The people clearly want mustard!
What a fitting, enduring image from Sunday night's disaster. Treat fans like cattle to be herded, and they'll respond by swimming in gloop and dancing in puddles.
"We can keep them here all night," ESPN thought. "They have no jobs. No responsibilities. There's no reason Yankees fans can't wade through ankle-deep water in limited space for hours while we decide whether or not we want to force a playoff-bound team to dodge injuries on wet turf in the early morning."
Well, ESPN, you get what you pay for.
Judge has 10 games left to hit Nos. 61 and 62, and the Maris family will follow him north of the border this week for the next leg of the race.
There's still a chance the magic happens Friday through Sunday, back in the Bronx against the Orioles.
Luckily, there's no chance it happens Sunday night, well past midnight, in front of 5,000 fans and a ketchup-soaked madman. Sorry, ESPN.