Yankees 2022 first-round pick Spencer Jones ended season on a rampage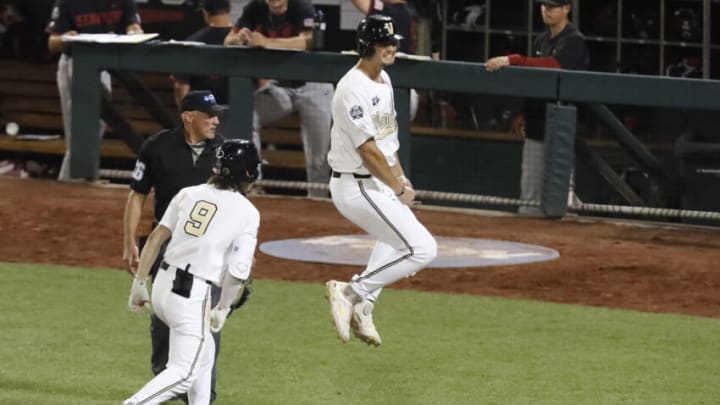 Jun 23, 2021; Omaha, Nebraska, USA; Vanderbilt Commodores utility player Spencer Jones (34) celebrates scoring the winning run with shortstop Carter Young (9) against the Stanford Cardinal at TD Ameritrade Park. Mandatory Credit: Bruce Thorson-USA TODAY Sports /
Could New York Yankees 2022 first-rounder Spencer Jones finish the season matching his Aaron Judge vibes with Aaron Judge production? Turns out, though the dream of a Judge 2.0 may die sometime next season, it will not meet its untimely end until then.
In other words, Jones finished what he started during his pro debut, and then some.
It's too early to take a victory lap on the selection of Jones, but at the time of the draft, Yankees fans (and nervous haters) touted similar batted-ball data to Judge's final season at Fresno State. Such data makes for a very boom-or-bust selection, with a high probability of the player being unable to match his ceiling.
After all, how many people who look like Aaron Judge and very occasionally slug like Aaron Judge actually turn out to be Aaron Judge? So far, just one.
But after Year 1 (OK, two months) of Jones in the Yankees system, it's fair to be optimistic about him approaching whatever his ceiling actually is. Maybe the Yanks have a solid handle on how to tweak a 6-7 exit velocity king's swing pretty quickly? If anyone can be trusted with a prospect who looks like this, it's the Hit Strikes Hard Brigade, and the early returns are very exciting.
Yankees 2022 first-round pick Spencer Jones finished minor-league season on epic hot streak
Once upon a time, Judge himself became the most powerful bat in his draft, even after being selected 32nd overall in 2013, behind the likes of Kris Bryant, Clint Frazier, Colin Moran and Hunter Dozier.
Heck, he wasn't even the Yankees' first offensive draft pick that season; that honor goes to Eric Jagielo, selected out of Notre Dame 26th overall before being jettisoned to Cincinnati in the Aroldis Chapman trade.
After Jones' debut, history could be repeating itself, with Dodgers prospect Dalton Rushing, Orioles pick Jud Fabian, and Jones distancing themselves from the field.
The first half wasn't kind to the Yankees' top offensive prospects in 2022, but a collective second-half surge befitted a farm system most agree still remains in the top half of the league, even after this year's deadline trades drained it of upper-level arms.
Shortstops Oswald Peraza, Anthony Volpe and Trey Sweeney, alongside Andres Chaparro, Jasson Dominguez and Tyler Hardman, all stepped up significantly in the season's final few months.
Add Jones into that mix, and it's fair for Yankees fans to dream about how 2023 and beyond could look. Let's just hope Judge re-signs for the long haul, and New York City can have both.