Anthony Rizzo flips out again after ump show during Yankees-Mets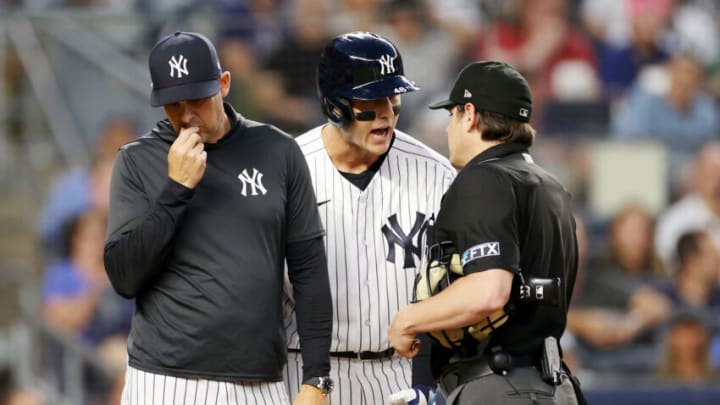 NEW YORK, NEW YORK - AUGUST 15: Manager Aaron Boone #17 of the New York Yankees looks on as Anthony Rizzo #48 argues a call with umpire DJ Reyburn #17 during the third inning against the Tampa Bay Rays at Yankee Stadium on August 15, 2022 in the Bronx borough of New York City. (Photo by Sarah Stier/Getty Images) /
Thought Anthony Rizzo losing his mind after last week's ump job when he was squarely hit by a pitch but wasn't granted first base? Well, the New York Yankees slugger was at it again on Monday night against the Mets after another egregious call.
In the bottom of the first inning, the Yankees took a quick 1-0 lead on a DJ LeMahieu sacrifice fly that scored Andrew Benintendi from third. It was a bang-bang play at the plate, so the Mets understandably tried to appeal Benny leaving from third early.
As starter Max Scherzer went to do that and throw the ball to third base, Rizzo took off for second base. It rattled Scherzer, who turned around and accidentally rifled the ball into center field, allowing Rizzo to advance to third.
But Mets shortstop Francisco Lindor immediately started complaining to the umps about the play, and they, for some reason, sent Rizzo back to first base, claiming it was a dead ball.
Rizzo, understandably furious, was vocal about the decision, and mouthed what looked like a "shut the f— up" to somebody … we just don't know who.
Yankees' Anthony Rizzo was not happy with bad umpiring on Monday vs the Mets
Maybe he said it to Lindor, who was quick to tattle to the umps, or maybe he was saying it to the first base ump, who ended up having the final say on the matter. Either way, Rizzo is among those on the Yankees who are fed up with this recent stretch of play as well as the umpiring nonsense that has occurred in between.
Tensions have continued boiling over in the Bronx, with manager Aaron Boone losing his cool with the media on Saturday followed by Gerrit Cole coming out of the dugout to jaw at Blue Jays pitcher Alek Manoah on Sunday after Aaron Judge was hit by a pitch.
For this Yankees-Mets incident, though, fans would love to know if Rizzo's words were directed at Lindor since there's some history here. In 2021 during the Subway Series at Citi Field, Lindor and Giancarlo Stanton exchanged words after the Yankees' slugger went yard and the benches promptly cleared.
Whatever it was, it clearly wasn't serious though because the inning ended after Josh Donaldson lined out and nothing lingered.
On the YES broadcast, it was revealed the call was made because the ball "wasn't in play." Scherzer's foot was off the rubber, the batter wasn't in the box, and the umps weren't in position.
Regardless, it was a heads-up play by Rizzo and Yankees fans love the awareness in real time as well as the frustration after the fact. Keep it coming and the turnaround might be underway.