Yankees immediately add Oswaldo Cabrera, Estevan Florial to lineup in roster shakeup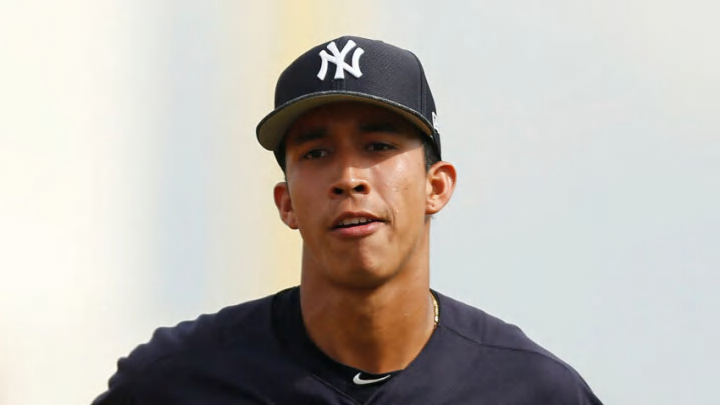 PORT CHARLOTTE, FLORIDA - FEBRUARY 24: Oswaldo Cabrera #98 of the New York Yankees in action against the Tampa Bay Rays during the Grapefruit League spring training game at Charlotte Sports Park on February 24, 2019 in Port Charlotte, Florida. (Photo by Michael Reaves/Getty Images) /
The New York Yankees, still nine games ahead in the AL East standings entering Wednesday night, have a clear need for new blood as the dog days of summer take their seemingly endless toll.
Stuck in the longest offensive doldrums in franchise history — no, really — the Yanks haven't recorded an RBI since Saturday, when Isiah Kiner-Falefa knocked in all three runs in a victory at Fenway Park. One man has been the totality of the team's offense for four days. In order to hold onto the division lead (duh), that must change.
In desperate need of the spark Gerrit Cole begged for on Monday night, the Yankees started some rumors late Tuesday. Thanks to a few individual reports and Oswaldo Cabrera's Instagram story, it seemed that the versatile infielder would soon be promoted for his MLB debut.
Also reportedly en route to the Bronx were relief ace Ron Marinaccio and outfielder Estevan Florial, for his second tour of duty this season.
The pieces to the puzzle began to fit together slowly over the course of Wednesday's news cycle. First, Clay Holmes announced with a wink and a smile that he'd probably be headed to the IL with a locked-up back. Then, new nameplates showed up in the locker room, with Miguel Andújar's conspicuously absent.
Finally, the Yankees' lineup dropped, with the two new names immediately entering the spotlight, batting sixth and eighth against Corey Kluber.
Yankees add Oswaldo Cabrera, Estevan Florial to lineup Wednesday vs Rays
And Marinaccio's starting! Just kidding. But wouldn't that be fun?
Florial has slumped of late, but Cabrera has been absolutely red hot, returning from the IL to triple-slash .330/.411/.629 with seven homers in his past 25 games. If there was ever a time when he could be most effective, it's this one.
He won't have much time to adjust to the enormity of the moment, either, as he'll be wearing No. 95 in pinstripes while trying to protect DH Josh Donaldson in the new-look lineup Wednesday night.
On the flip side, Andújar and Tim Locastro headed back to Triple-A, with Holmes clearing a roster spot with his forthcoming IL stint. DJ LeMahieu will survive on the active roster, and will reportedly gut through his toe issue and attempt to play Thursday against Toronto.
The Yankees have gotten next to nothing from their bench recently — including Marwin Gonzalez, who doesn't have a hit since June, but gets to survive on the roster. That's fitting; he's Cabrera's reported idol, and will get a chance to mentor him from up close these next few weeks.
This may not be as far as some fans wanted to go (Oswald Peraza, where are you?), but in terms of midseason sparks, it could have an immediate impact. At least, the Yankees are putting themselves in position to reap the rewards quickly.