Matt Carpenter's Yankees surge shows why Rangers' front office should be disbanded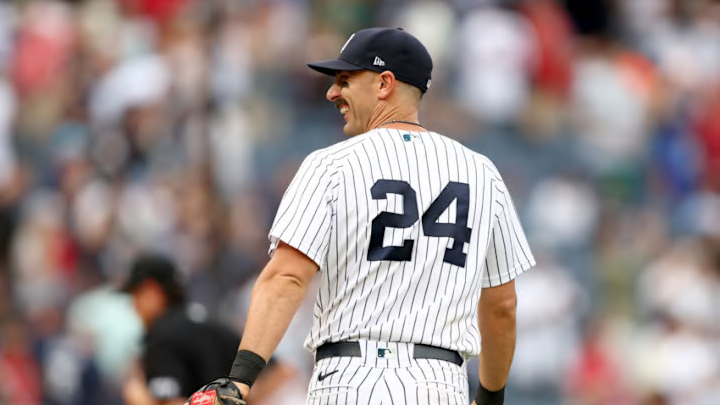 NEW YORK, NEW YORK - JULY 17: Matt Carpenter #24 of the New York Yankees celebrates the win over the Boston Red Sox at Yankee Stadium on July 17, 2022 in the Bronx borough of New York City. The New York Yankees defeated the Boston Red Sox 13-2. (Photo by Elsa/Getty Images) /
First, the Texas Rangers gifted Jose Trevino to the New York Yankees for reliever Albert Abreu, who was released not too long into his tenure and then … re-signed by the Yanks. Trevino, now an All-Star, was acquired for free.
Then, it was the Rangers' egregious error of letting Matt Carpenter go in late May. The lefty slugger was originally signed by Texas on a minor-league deal, but when the time came to decide whether Carpenter had a spot on the major league roster, the Rangers declined and allowed him to hit free agency again.
Now, why would the Rangers decline anything at this point … especially a guy who was hitting .275 with a .991 OPS (15 runs scored, 6 homers and 19 RBI) in 21 Triple-A games as he was looking to make an MLB comeback following back-to-back horrid campaigns that ended his 11-year stint with the St. Louis Cardinals?
And it's not like Texas was good! They were 17-20 at the time of Carpenter's release and had underperforming players all over their roster. At the very least, he could've been stashed on the bench as insurance!
Instead, that's what the Yankees did a week after his release. Now? Carpenter just earned AL Player of the Week honors as the first half of the season capped. He's slashing an unreal .354/.469/.911 (1.380 OPS, for those of you bad at math) with 23 runs scored, 13 homers and 34 RBI. He owns a 286 OPS+ and a 2.2 WAR and has already played four different positions.
All we're trying to say? The Rangers' front office needs yet another overhaul because what they're doing isn't working.
The Rangers release Matt Carpenter (and trading Jose Trevino) have made the Yankees unstoppable
Texas spent $556 million this offseason on shortstop Corey Seager ($325 million, second baseman Marcus Semien ($175 million) and starting pitcher Jon Gray ($56 million) and are eight games below .500 at the All-Star break.
Though these moves are for the long term, it's evident the Rangers are short many more pieces in order to reach any sort of contender status.
They also traded a valuable, versatile piece in Isiah-Kiner Falefa (who also ended up as a Yankee!), who could've served as a utility player even with the presence of Seager and Semien due to his above-average defense. That deal with the Twins netted them catcher/DH Mitch Garver, who eventually forced Trevino out of town, and Garver is having his worst season to date (and logging most of his reps at DH due to the presence of fellow catcher Jonah Heim).
Then, the cherry on top, was letting Carpenter find a new home because apparently there wasn't any room for him to get some reps at first base, third base, left field or right field with guys like Nate Lowe, Andy Ibañez, Brad Miller, Kole Calhoun and Garver largely underperforming or not exactly moving the needle whatsoever.
Before the Rangers' front office is disbanded, though, general manager Brian Cashman should send them some sort of gift basket or offer them a low-paying job in the Yankees organization, since their missteps have helped New York become the best team in baseball at the moment.