This Yankees-Carlos Rodón trade could steal ace from struggling Giants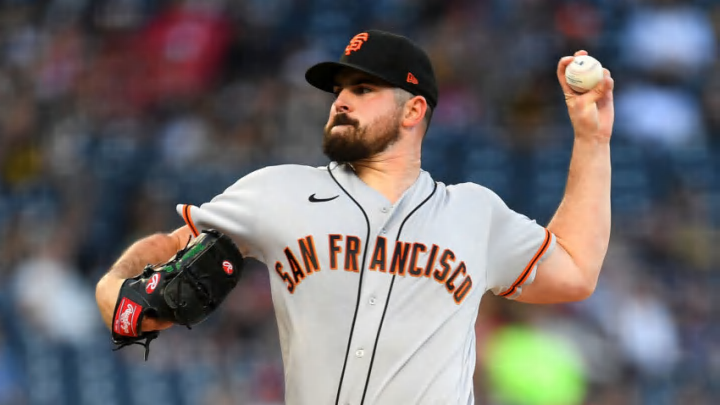 PITTSBURGH, PA - JUNE 17: Carlos Rodon #16 of the San Francisco Giants in action during the game against the Pittsburgh Pirates at PNC Park on June 17, 2022 in Pittsburgh, Pennsylvania. (Photo by Joe Sargent/Getty Images) /
Remember all those "Yankees need starting pitching" help prayers that were never answered this offseason, only for the Bombers to rattle off an historic April and May and silence the doubters? The innings limits and fatigue we always knew would become a factor are beginning to settle in now, and without any shade thrown in the direction of a still-sterling Yankees rotation, reinforcements could help.
Luis Severino has remained rock-steady, but the Yankees are well aware of his litany of injury concerns, routinely pulling him early from blowouts where his argument has already been made (just 88 pitches in Wednesday's win). Nestor Cortes slipped prior to his start in Cleveland, and has never passed 93 innings in his big-league career, which could be a problem in September unless handled quickly. Jameson Taillon's regression has already begun, and a phantom IL stint could be around the corner.
You can never have too much pitching, especially when the first line of defense is full of mostly surprises (Clarke Schmidt, JP Sears) and very little established big-league talent. The Yankees shouldn't overpay for a Luis Castillo or Frankie Montas-type (if that's what it takes), but they need to come away from the deadline with something.
Why not call the San Francisco Giants about Carlos Rodón, whose two-year contract comes with an opt-out triggered as soon as he passes 110 innings pitched (and he's currently at 91)?
Rodón continues to pitch like an All-Star for a Giants team that's fallen closer to .500 lately, and he's en route to turning himself into a rental. While he might be on a pitch count himself after injuries derailed his 132.2-inning 2021 season, maybe that makes him an interesting depth piece to pair with Cortes/Severino down the stretch?
Yankees-Carlos Rodon trade package with San Francisco Giants:
Rodón's fire and desire is backed up by his second straight dominant season between the white lines. Through 16 starts, he's whiffed 112 batters in 91 innings with an All-Star-worthy 2.87 ERA and a very un-Yankee-like four home runs allowed.
For as much fun as it's been to watch Jordan Montgomery keep hitters off balance from the left side, when his location is off, his middling fastball gets mashed. Rodón doesn't have that same problem; he can find an extra gear to blow hitters away.
The Giants won't undergo a fire sale unless they're sure they can't peak in the second half, but MLB insiders like FanSided's own Robert Murray are beginning to speculate, and Ken Rosenthal added a Rodón nugget to his Friday pitching rumors column.
What would the Giants accept for the man who's just about pitched himself into an expiring contract? Luis Medina would have to be a part of the conversation, from the Yankees' side. Add Everson Pereira, and the price feels right for two months of someone who (gulp) may have already pitched his best baseball of the season, but could be a risk worth taking.
If the Giants demand a third piece, how about someone further away from the bigs on the DSL roster?
The Yankees might prefer stability with their midseason pitching additions (think Merrill Kelly of the D-Backs), but if it's upside they're after, it's hard to do better than Rodón.
An offseason investment in the lefty might've turned out unnecessary, but now's the time to solidify things after an excellent first half.