Yankees become part of MLB history with hitless innings streak vs Astros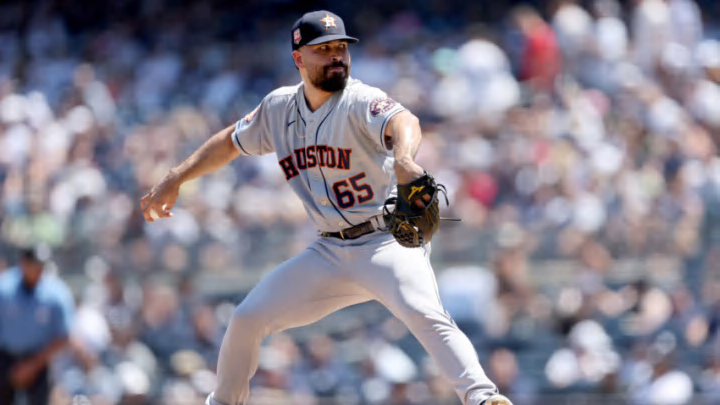 Jun 26, 2022; Bronx, New York, USA; Houston Astros starting pitcher Jose Urquidy (65) pitches against the New York Yankees during the first inning at Yankee Stadium. Mandatory Credit: Brad Penner-USA TODAY Sports /
The New York Yankees getting no-hit by Cristian Javier and the Houston Astros on Saturday was devastating. Getting blanked in the hit department is the most humiliating thing an offense can achieve, but the fact it came in the Bronx against the Yankees' chief rival made it a perfect storm of degradation.
Of course, it was only one game. Come back with a win on Sunday to split the series and all is forgotten … for the most part. Heck, Aaron Boone's side has enough stock locked in the chamber that even losing three of four at home to the hated Astros wouldn't be a doomsday scenario.
Just don't go down without a whimper.
Despite having an edge on the mound with Nestor Cortes facing Jose Urquidy, who entered Sunday allowing 11.4 hits per nine hitting with a .301 batting average, the Yankees' hitless streak lasted an agonizing 6.1 more innings.
When the streak hit 16 innings, the Yankees became part of MLB history, tying the 1981 Dodgers and 1973 A's for the longest such streak since the expansion era (1961), per Sarah Langs of MLB.com and Elias Sports.
The Yankees became part of MLB history after their hitless innings streak reached 16 on Sunday.
If there's a silver lining to this horrid display of offense, both the '73 Athletics and '81 Dodgers went on to become champions. Though the Astros have taken a huge gust of wind out of their sails this weekend, the Yankees are widely perceived as this year's title favorites. Perhaps history will repeat itself in 2022.
If not for a Giancarlo Stanton solo home run with one out in the bottom of the seventh, fans had every reason to believe the Yankees would have gone on to set the new record for most innings without recording a hit.
Clearly aware they were closing in on the wrong kind of history — again, against the Astros of all teams — the lineup was pressing to end the streak. Look no further than this sixth-inning pop out from the normally-disciplined Isiah Kiner-Falefa.
Yeah, that's the tell-tale sign of a player that desperately wanted to get his team on the board with a hit when the priority should've been getting on base to try and eat into Houston's three-run advantage. Fittingly enough, the Yankees' shortstop laced a single into left field in his first at bat after Stanton's home run.
The solo blast seemed to have a cooling effect on the rest of the lineup, as DJ LeMahieu smashed a two-run homer to tie the game in the bottom of the eighth.
Suffice it to say a comeback win would go a long way towards ridding this weekend's demons.