Joe Kelly ripping Yankees brings back hateful Red Sox memories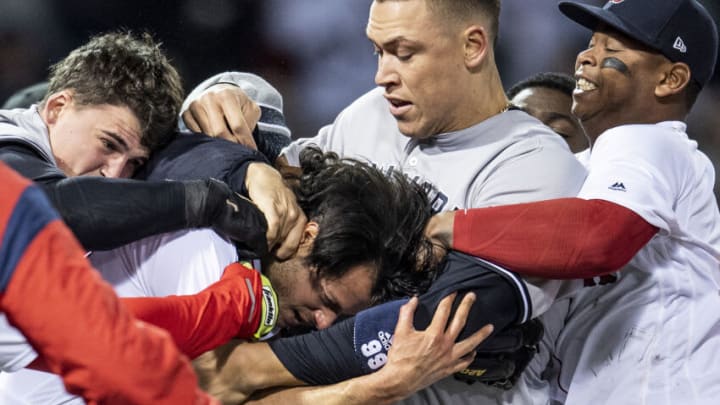 BOSTON, MA - APRIL 11: Aaron Judge #99 of the New York Yankees fights with Joe Kelly #46 of the Boston Red Sox after Tyler Austin #26 was hit by a pitch during the seventh inning of a game on April 11, 2018 at Fenway Park in Boston, Massachusetts. The play led to a benches clearing argument. (Photo by Billie Weiss/Boston Red Sox/Getty Images) /
Thankfully, the New York Yankees are done playing the Chicago White Sox for the remainder of the 2022 season. The fallout from the Josh Donaldson-Tim Anderson incident — while important to discuss and hold Donaldson accountable for — has been overblown thanks to the outrage of those who aren't even involved. It's safe to say most would like to move on from this, so a naturally parting of the ways until the postseason seems to be a healthy antidote.
But Yankees fans will remember some of the backlash, specifically as it pertains to the words that came out of Joe Kelly's mouth. Remember him? The hateable former Red Sox pitcher who won a World Series with Boston in 2018? The guy who Boston fans thought beat up Tyler Austin, when it was in fact Tyler Austin who beat him up?
Kelly's a formidable trash talker and was actually revered by Yankees fans for quite a while for the stunt he pulled in 2020 against the Houston Astros when he threw at Carlos Correa and Alex Bregman to send a message in response to their sign-stealing scandal.
However, after spending Monday afternoon piling on the Yankees, he's back to being a member of the Red Sox, further eliciting negative feelings among New York fans.
He started things off by criticizing Donaldson for what he said to Anderson. Fair. Warranted. Understandable.
But then he drew a parallel between his 2020 suspension (eight games) to Donaldson's most recent ban (one game) and decided to minimize his offenses in a laughable manner.
Former Red Sox pitcher Joe Kelly trash talking the Yankees is infuriating stuff
"For making a face," Joe? You threw 98 MPH+ directly *at* two batters and then mocked one of them, inciting a benches-clearing incident. Did you forget what happened? Donaldson may be a d–che, and that's fine. Talk about that. Don't disingenuously compare the suspensions and act as if there was an unnecessary misstep here.
Between White Sox closer Liam Hendriks and pitching coach Ethan Katz going off the rails in their Donaldson criticism, Kelly chiming in (while totally fine and justified) further rubbed everyone the wrong way given his history with the Yankees and previous boisterous behavior across the league.
Not to mention, he also went at Aaron Hicks, who Kelly picked off on Sunday after the outfielder made a bone-headed play when taking a lead at second base. So his concern was hardly just Donaldson — he once again took things over the top as he typically does with his barbs with whomever across the league.
We get it, though. Kelly has allowed six earned runs on the year and owns a 10.80 ERA after just five innings of work. He gave up all of those runs on two separate outings (totaling ONE inning) against the Yankees.
For his career? A 5.77 ERA and 1.60 WHIP in 25 games against the Bombers. Going after two easy targets in Donaldson and Hicks seems to be his speed, and he couldn't even get the rightful Donaldson criticism totally right despite a softball of an opportunity to do so.
For a guy used to throwing softballs against the Yankees, you think he would've been more prepped for this moment.