Prospects Live Mock Draft 2.0 has Yankees going new position in first round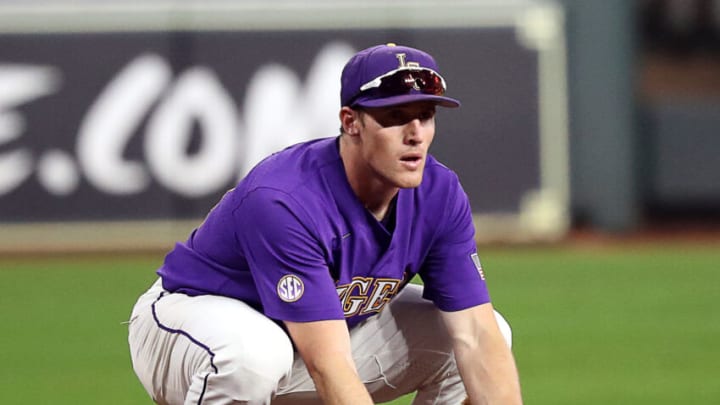 HOUSTON, TEXAS - MARCH 05: Jacob Berry #14 of the LSU Tigers against the Texas Longhorns during the Shriners Children's College Classic at Minute Maid Park on March 05, 2022 in Houston, Texas. (Photo by Bob Levey/Getty Images) /
The Yankees, in recent seasons, have gone "best player available" more often than not in both drafts and international free agency, beefing up their middle infield stockpile with reckless abandon.
2021 first-rounder Trey Sweeney, 2022 international signee Roderick Arias, 2019 top pick and top prospect Anthony Volpe and Oswald Peraza stand as pretty solid arguments that the Yanks won't let talent in the pipeline get in the way of adding more talent.
That makes a Yankees Mock Draft hard to predict. Clearly, the easiest route is to just project they'll select a player they love, considering that no matter who's ahead of said player in the system, they won't let that affect their decision-making.
Remember how weird it felt to see the Bombers go all out on Anthony Seigler, Josh Breaux and Austin Wells with Gary Sánchez already in place and now … yeah?
Most don't attempt MLB Mock Drafts considering how deep this rabbit hole goes, but Prospects Live has announced their latest edition, and as they see it, the Yankees are focused on adding another advanced collegiate bat in this year's first round.
Considering they chose Sweeney last year before going absolutely HAM on pitching help with every selection that followed, that would seem to be a fair prediction this season.
This time around, though, the Yankees are projected to deviate from the middle infield and choose LSU slugger Jacob Berry, an interesting twist on a familiar game.
https://twitter.com/ProspectsLive/status/1517149714944172037?s=20&t=Ylr8WirUqwplJn5062so3g
Mock Draft 2.0 predicts Yankees will select college first baseman Jacob Berry from LSU.
According to MLB scouts in the know, Berry projects as a future first baseman in the pros, even though he's mostly split time between third base and right field at the collegiate level.
That college career includes — say it with me — a dominant 2021 season at Arizona, a university the Yankees have recently plundered with the Wells pick. In his first campaign at LSU as a draft-eligible sophomore, he's continued punishing the baseball, triple-slashing .354/.441/.611 in Death Valley.
In recent years, after many experiments with prep arms and outfielders in their previous draft era (Ian Clarkin? Slade Heathcott? Ty Hensley? Blake Rutherford?), the Yankees have shown a proclivity for advanced bats who can hit as soon as they touch pro turf. Their 2021 second-rounder, Stanford right-hander Brendan Beck, was basically the pitching embodiment of the same ethos.
If the Yankees chose an advanced college bat who's a bit of a different defender than Sweeney/Volpe/their SS core, that would be a small departure from the norm, but a selection in the same vein.