Yankees Weather: Opening Day vs Red Sox postponed due to rain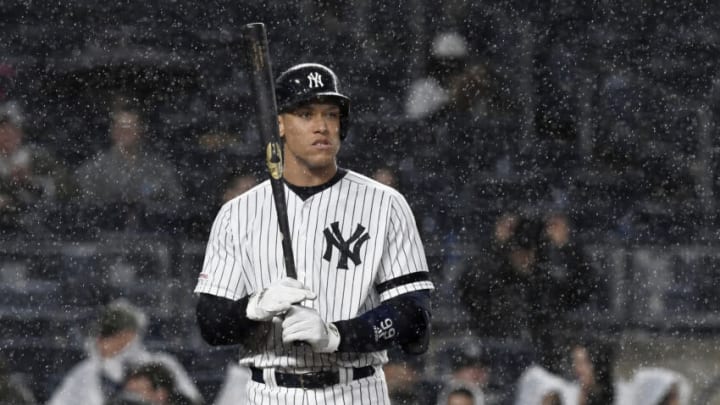 NEW YORK, NEW YORK - APRIL 12: Aaron Judge #99 of the New York Yankees bats in the rain during the sixth inning of the game against the Chicago White Sox at Yankee Stadium on April 12, 2019 in the Bronx borough of New York City. (Photo by Sarah Stier/Getty Images) /
Apologies to any New York Yankees fans who filed their sick days prematurely on Thursday, but that cough is going to have to linger for one more day.
For weeks now, Yankee fans have known we were looking down the barrel of some poor doppler radar for Thursday's Opening Day clash with the Boston Red Sox, and the only remaining question was whether the clouds would miraculously pivot or whether the contest would be washed out as expected.
With over 24 hours until go time, the Yankees (or MLB) decided they'd had enough of the anticipation.
Either that, or league officials woke up Wednesday, saw that the promised horrid rain had arrived, and decided that Thursday's issues probably weren't a mirage, either.
And so tristate area fans woke up to the "thrilling" conclusion of a two-week saga: Opening Day was moved to Friday, and honestly, there was probably much rejoicing.
After all, when's the last time the Yankees gave their fans this much warning before pulling the plug? Usually we're at least two chicken buckets deep before anyone makes the call.
Yankees-Red Sox Opening Day postponed from April 7 to April 8 (rainout)
Nathan Eovaldi and Gerrit Cole will have to adjust their preparation by one day, but, silver lining … maybe the Yankees can get an Aaron Judge extension done now? 24 additional hours to mull it over? Make Carlos Beltran's dream come true? Eh?
Though fans have been anxious to get this season started since the shutdown in mid-December, this was the right call using the data available.
The forecast hasn't shifted much in 10 days, and at the moment, things look particularly bleak. Showers, thunderstorms and heavy winds have mucked up the gametime window, and the evening doesn't look much better.
Clean slate Friday > 4:40 PM frigid start time Thursday.
Yankees Opening Day roster vs Red Sox
As for which Yankees will grace the field on Friday, the 28-man unit will include surprising faces in JP Sears, Clarke Schmidt, Ron Marinaccio and Marwin Gonzalez.
All 40-man roster moves have been accounted for, except for the corresponding maneuver for Gonzalez. The Yanks clearly wanted to go down to the wire before making a decision on a DFA or trade there, and now have 24 additional hours to hustle throughout the league.
Oh, and again, that Judge extension … it might be time to plop something else on the table, Hal.
Opening Day's the best day of the year for non-contenders and superteams alike. Yankees Universe has waited long enough already that an additional push feels expected and totally acceptable. Just … get it going Friday, will you?