Tommy Kahnle facing Tyler Wade during Dodgers-Angels was weird for Yankees fans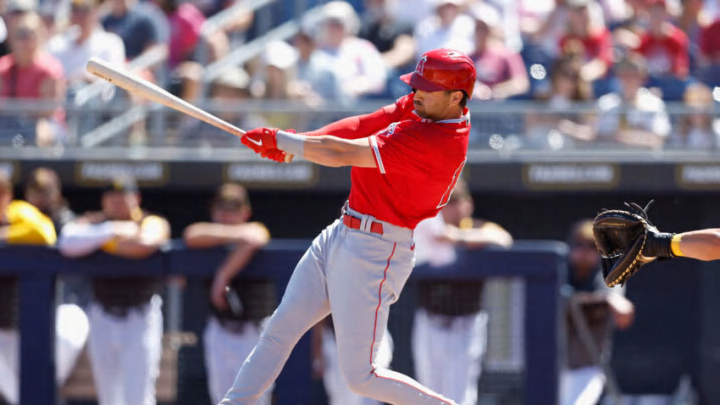 PEORIA, ARIZONA - MARCH 23: Tyler Wade #14 of the Los Angeles Angels bats against the San Diego Padres during the MLB spring training game at Peoria Stadium on March 23, 2022 in Peoria, Arizona. (Photo by Christian Petersen/Getty Images) /
The 2022 New York Yankees roster mostly looks the same, but the amount of departures the last two years will make it hard to believe that only six players on this 40-man roster remain from the team's 2017 run to the ALCS. Wild.
Two that have since departed are Tyler Wade and Tommy Kahnle. Wade was traded this offseason to the Los Angeles Angels after he was designated for assignment (in a decision that puzzled many) while Kahnle was non-tendered before the 2021 season because he underwent Tommy John surgery late in 2020. After that happened, the Los Angeles Dodgers signed him to a two-year contract.
Despite the Yankees' ability to keep both of these guys on the cheap (isn't that what they're all about these days?), they opted to let them go and will now watch them take on bigger roles elsewhere.
But on Tuesday, Yankees fans got a look at two of their former players facing off against one another when Wade stepped into the batter's box to face Kahnle in the right-hander's spring debut.
We're growing up so fast, aren't we? And how about this! Wade has dominated spring training with LAA thus far (.387 average, .924 OPS in 13 games) while Kahnle looks like he hasn't missed a beat in what was his first official game outing since undergoing surgery in August of 2020.
The Yankees could've just kept both of these guys to fill meaningful roles for about … $4 million total?
Yankees fans watching Tyler Wade vs Tommy Kahnle was weird
Though Kahnle won't be ready for regular season action until the end of April, his patented filthy changeup already appears to be in midseason form. Would've been great to have that in the bullpen instead of, say, wasting all of that time hanging on to Domingo German!
As for Wade, he could've continued to serve as the Yankees' backup shortstop/utility man … but the brilliant plan to give Gleyber Torres backup shortstop reps — after the team said they prefer him at second base after his disastrous last two seasons at SS — appears to be what they'll move forward with in 2022.
Kahnle will make $3.45 million in 2022 and Wade, still under team control, will pocket less than $900K. How the Yankees didn't have the foresight to keep Kahnle and build off of Wade's (mostly) successful 2021 season is beyond us.
And we'll be watching both of them probably succeed elsewhere while New York likely deals with eventual personnel problems of their own in departments where Wade and Kahnle could've greatly assisted.