Christian Vazquez's try-hard comments on Gerrit Cole will infuriate Yankees fans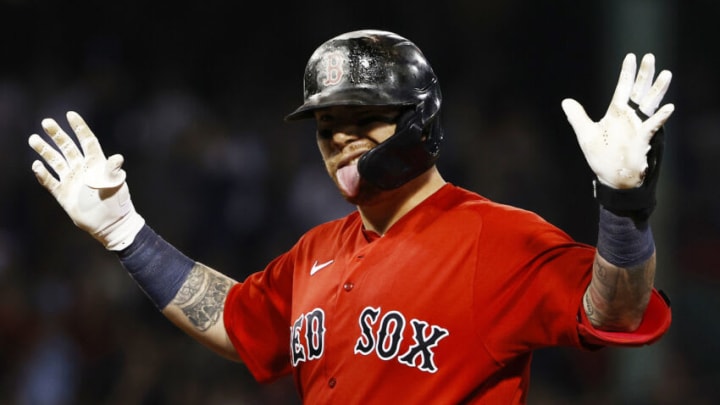 BOSTON, MA - JUNE 25: Christian Vazquez #7 of the Boston Red Sox reacts towards his dugout after hitting an RBI single against the New York Yankees during the eighth inning at Fenway Park on June 25, 2021 in Boston, Massachusetts. (Photo By Winslow Townson/Getty Images) /
Looks like the lockout being lifted has some people irrationally excited for … well, we're really not sure what. If Mets fans' incessant boasting didn't get New York Yankees fans angry enough, then this should do the trick.
Hours after the lockout ended and the owners and players signed off on a new CBA, Boston Red Sox catcher Christian Vazquez took to Instagram Live to let the world know he's been working out and preparing for the season … you know, doing his job.
In classic hardo fashion, Vazquez, who has called out the Yankees in the past without being provoked whatsoever, did it again on Thursday night. We'd like to think this is stoking the rivalry flames, but it's just empty trash talk that's beyond weak and has no context.
Remember his comments on the Yankees "having no rings" that stemmed from … absolutely nothing? Or how about his ridiculous peacocking during last year's regular season that ended up costing the Red Sox on a controversial Joe West call?
That continued on Thursday when Vazquez told his ~7 live viewers that he's "ready" for Gerrit Cole and that the Yankees ace "doesn't want to face [the Red Sox] right now."
Who's living rent-free where? Because we're confused how this whole thing works now.
Christian Vazquez is already calling out Gerrit Cole and the Yankees
You go, Christian! Keep supporting the team that clearly deprived you of a handful of at-bats last season so you wouldn't get an incentive bonus!! There ya go.
Also, not sure about anybody being scared of facing anyone after the offseason was massively delayed and team activities began on March 11. But this is exactly fitting with Vazquez's aimless trash talk directed at the Yankees. It's just unfortunate that he does have a ring and a signature moment against the Yankees in the postseason (solo homer off Zack Britton in the 2018 ALDS).
New Yorkers just wish there was more context behind his jabs because it's always more fun that way. Instead it's just waking up and listening to Vazquez try to contrive more ways to make this rivalry more intense … but it's doing the opposite.
But most importantly, yes, Cole and the Yankees are terrified of facing Vazquez and his career .259 average and .692 OPS. Maybe Rafael Devers. Definitely Xander Bogaerts. And totally JD Martinez (as long as he has the video room). But Vazquez and his other "boys"?
We'll see what Cole has to say on Opening Day against Boston when April 7 arrives.