Yankees free agent option chooses record-setting contract in Korea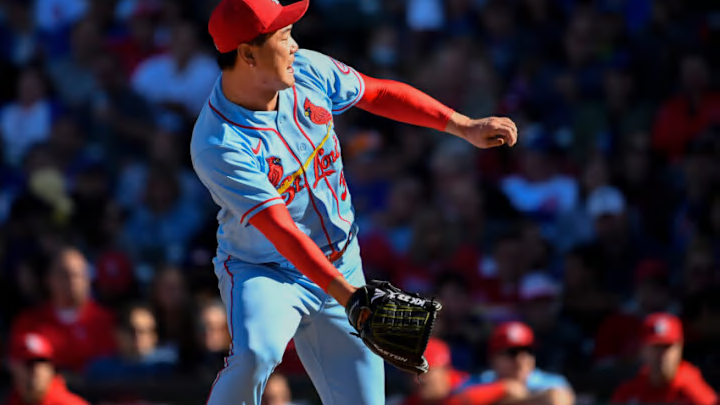 CHICAGO, ILLINOIS - SEPTEMBER 25: Kwang Hyun Kim #33 of the St. Louis Cardinals pitches in the sixth inning against the Chicago Cubs at Wrigley Field on September 25, 2021 in Chicago, Illinois. (Photo by Quinn Harris/Getty Images) /
Remember when we claimed the New York Yankees had three easy free agency calls to make the literal day the lockout ended, both to add star power and depth to their roster? Uh … make that two.
We can't speak for the team, but we liked the idea of signing left-hander Kwang Hyun Kim as a swingman/insurance for a possible Nestor Cortes Jr. regression, as someone who played a similar role in St. Louis for two seasons.
The former KBO MVP, now 33, starred stateside on a two-year deal, but didn't find exactly what he was looking for in many senses.
His first campaign, 2020, was dominated by a devastating pandemic and lasted just 60 games plus some empty-stadium playoffs (and came with a prorated salary). For someone who hoped to enjoy the American experience, it can't have been very rewarding, even though he finished his "rookie campaign" with a 1.62 ERA in 39 innings.
In 27 games (21 starts) in his sophomore campaign last year, Kim was once again steady, putting up a 3.46 ERA (though with a 4.34 FIP that hinted at oncoming regression).
Instead of testing MLB's free agent market — whenever it opens back up — the lefty will now head back to Korea and join SSG Landers, setting a record for the league in the process, exceeding the previous top contract by .1 billion won.
Yankees target Kwang-Hyun Kim returns to KBO
This isn't quite as shocking a defection as when Freddy Galvis bolted overseas prior to the lockout (and before the Yankees even had a chance to get interested), but still, there goes a solid depth option off the board who could've given the Bombers 100 above-average innings at a bargain price.
Adding insult to injury, Kim will be joining a prominent former Yankees pitcher in the SSG Landers rotation.
Ivan Nova, send us that scouting report when you get a chance!
Kim isn't the Yankees' only possible source of rotation depth in 2022, but he seemed like a low-risk, moderate-reward option who would've humbly slotted into either the bullpen or rotation, depending on where he was needed.
But perhaps we assessed that wrong. Clearly, struggling to find a foothold was a bit of a sticking point for Kim during his time in America, and he'll now return to more familiar territory with far more assured security.
Time for the Yankees to pivot — that is, if free agency ever resumes.