Yankees teammates' nickname for Jasson Dominguez will get you hyped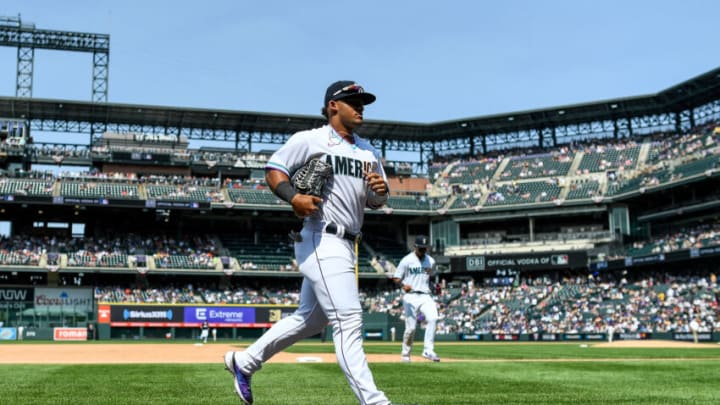 DENVER, CO - JULY 11: Jasson Dominguez #25 of American League Futures Team returns to the dugout after playing defense against the National League Futures Team at Coors Field on July 11, 2021 in Denver, Colorado.(Photo by Dustin Bradford/Getty Images) /
The New York Yankees are out here trying to win the World Series, led by their next generation of talent.
But one of the key members of that generation might just mess around and try to win a Super Bowl, too.
There are plenty of genuine athletic freaks spread across the NFL landscape, but Los Angeles Rams defensive tackle Aaron Donald stands out as one of the only men at his position who can do what he does — as well as look perfectly normal shirtless in a parade, which most DTs wouldn't be caught dead doing.
In MLB, it's more difficult to find bodies that genuinely stand out … though the Yankees seem to have one in Jasson Dominguez, otherwise known as "The Martian" to the masses.
Turns out, the two men have more in common than just freakish physique.
According to Anthony Volpe's media session on Tuesday, the Yankees in that locker room don't call Dominguez "The Martian" or "Young Mike Trout/Bo Jackson" or anything else that sounds sort of … off.
No, they're out here calling Dominguez "mini Aaron Donald," which is the perfect example of something being both flattering and humbling.
Yankees' Anthony Volpe has nicknamed Jasson Dominguez after Aaron Donald
You want to be Aaron Donald someday? Not Aaron Judge? Seems infeasible for a slugger, but sure. You can be the baseball equivalent. But … you've got to work, because right now, you're just a miniature version.
Keep that carrot on a string, Yankees prospects!
Volpe spent his media session Tuesday not only detailing his offseason plans and ambitions, but also lavishing praise on his future teammates (hopefully). The young shortstop is certainly not the only one who wants to win in this uniform, and not just any uniform.
He had nothing but praise for Dominguez's work ethic, too, making it clear the prospect is not resting on his plentiful laurels.
Dominguez looked a bit more like Sheldon Rankins than Aaron Donald in his 2021 full-season debut, but he's spent the offseason remaking his leg kick and swing to strike the ball with more authority consistently.
Ideally, he gets the championship payoff Donald experienced in 2022 someday, too — and hopefully it doesn't take quite so long a journey to get there, nor does it result in immediate retirement rumors.