Yankees may have just lost key trade target due to prospect's injury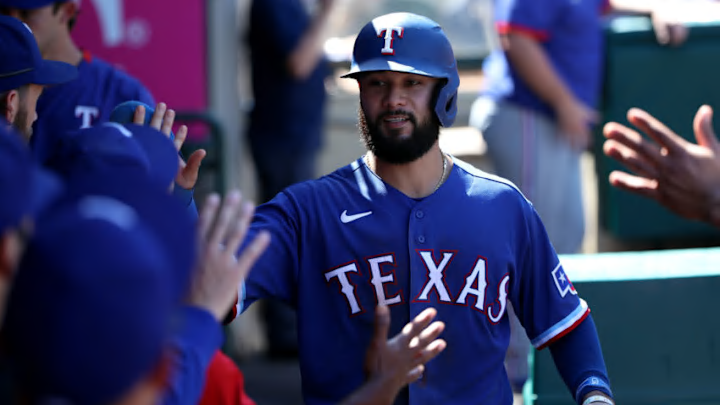 ANAHEIM, CALIFORNIA - SEPTEMBER 05: Isiah Kiner-Falefa #9 of the Texas Rangers celebrates his run scored in by Jonah Heim #28 with teammates in the dugout during the fifth inning against the Los Angeles Angels at Angel Stadium of Anaheim on September 05, 2021 in Anaheim, California. (Photo by Katelyn Mulcahy/Getty Images) /
Not that it was Yankees fans' first choice, but it's still one potential less option off the table that helps New York's chances of addressing the shortstop position.
On Wednesday, the Texas Rangers were hit with some rough news regarding top prospect Josh Jung, who just underwent shoulder surgery and is expected to miss six months. It was believed, if healthy, Jung could've cracked the Opening Day roster as the starting third baseman.
So how does this hurt the Yankees? With the loss of Jung and the fact there are less appealing options behind him, the Rangers now probably won't be inclined to trade Isiah Kiner-Falefa.
Though Kiner-Falefa spent all of last year at shortstop, he played third base during the shortened 2020 (and also for 25 games in 2019) and won a damn Gold Glove, beating out Gio Urshela for the honors.
Jung starting 2022 at third base with Corey Seager at shortstop, Marcus Semien at second base and Nathaniel Lowe at first would've made it a whole lot easier for the Rangers to dangle Kiner-Falefa in trade talks, which was reportedly expected to be the case.
Now? They'll probably just stick with their cost-effective, Gold Glove-caliber third baseman for the 2022 season as Jung returns to full strength and rehabs in the minors before making his MLB debut. He's basically their only option on the depth chart with experience.
The Yankees may not be able to trade for Isiah Kiner-Falefa.
The silver lining here? With Kiner-Falefa potentially no longer available, the pool narrows for general manager Brian Cashman. The low-cost shortstop options are getting more and more undesirable. Does that open the door for a big-ticket expenditure? Or will it push the organization to promote one of its top shortstop prospects ahead of schedule?
Or will this open the floodgates for them to sign Freddie Freeman, shift Gio Urshela over to shortstop, and use DJ LeMahieu as the starting third baseman? Some may not be thrilled with that solution, but LeMahieu has to play somewhere and Urshela must be the preference over an uninspiring one-year stopgap such as Andrelton Simmons.
Some figured the Rangers might look to address third base with a different move, but what's the point when the answer is right there? Plus, they'd be limited in their options because of Jung's expected role as the team's third baseman of the future.
While this seems like a loss for the Yankees, it might actually do them a favor because they won't have time to think or deliberate on their decisions once the lockout ends. There's going to be a mad dash by both teams and players to get situation before the 2022 season, which will be starting promptly once a new CBA is signed.
And if the Yankees had Kiner-Falefa as their plan, now they have a grace period to figure out a solution since he's likely staying in Texas.