What does Red Sox insider know about Yankees' FA plans that we don't?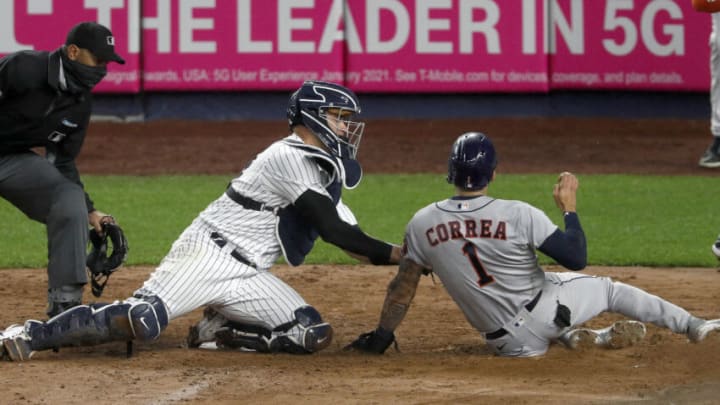 NEW YORK, NEW YORK - MAY 05: (NEW YORK DAILIES OUT) Gary Sanchez #24 of the New York Yankees tags out Carlos Correa #1 of the Houston Astros during the fourth inning at Yankee Stadium on May 05, 2021 in New York City. The Yankees defeated the Astros 6-3. (Photo by Jim McIsaac/Getty Images) /
Is this an attempt at reverse psychology, or what? A way to jinx the Boston Red Sox's most hated rival of all time? Because we're not sure we understand.
Prior to the lockout, the New York Yankees made one move: they rejected Joely Rodriguez's team option and re-signed him so they could save $1 million. Brilliant. The organization stood in solidarity with the other owners looking to make a statement before the CBA expired.
Whenever you have the chance to get better and achieve your goal of winning a World Series, you certainly play politics to create a further divide with a lockout looming. That's what we call "business" in 2022.
Instead, we're sitting here waiting for baseball to return someday, but there's no indication that it will. It sounds dramatic, but the progress the owners and players have made in negotiations is about as good as the United States government has made with Russia over the last 12 years.
Though some have predicted the Yankees are set to exit the lockout with a spending spree reminiscent of anything pre-2015, most fans don't feel the same way. It's just hard to envision something that hasn't happened in a really long time.
But somehow, a Red Sox (and MLB) insider thinks general manager Brian Cashman and owner Hal Steinbrenner are going to prove everybody wrong by making earth-shattering upgrades before the 2022 season.
A Red Sox insider thinks the Yankees are going to hit big after the lockout.
Here's the latest from Pete Abraham of The Boston Globe (subscription required):
""New York didn't make any impact moves ahead of the lockout, preferring to wait and see what the financial landscape would be when it ended."The Yankees have made the playoffs the last five seasons but haven't been to the World Series since 2009. Brian Cashman knows that's not a streak he can ride for much longer. Hal Steinbrenner has to be feeling some heat, too."Whether it's signing Correa or making a big trade, the Yankees are going to do something. Their business plan has always been to act.""
That last line … is something from the distant past. When have the Yankees "acted" in recent years after being faced with what felt like impenetrable adversity? Trading for Giancarlo Stanton when they didn't need to? Signing Gerrit Cole when they absolutely had to? Re-signing DJ LeMahieu when they had no choice? Or was it prematurely giving Aaron Hicks and Luis Severino contract extensions that would eventually blow up in their face?
The Yankees have made moves to better their situation, nobody's denying that. This team still competes for division titles and a playoff spot every year, but the expectations of championship-or-bust have taken a nosedive, and the responses from the front office and ownership have very much felt inadequate.
On top of all of that, the Yankees have spent their money extremely poorly. Name another roster out there that has over $200 million committed to next year's payroll that also possesses as many holes as New York's? At this moment, the team doesn't have a starting shortstop, a No. 2 starting pitcher, a starting center fielder they can rely on for everyday reps, or reliable depth in the event injuries strike.
Abraham's been around the game for quite a while, but that might be the problem: he's envisioning a franchise of yesteryear making the impactful moves they're supposed to make when their backs are against the wall. Until proven otherwise, many will maintain that this newer version of the Yankees doesn't do that.