Yankees' Jasson Dominguez rookie card sells for absurd amount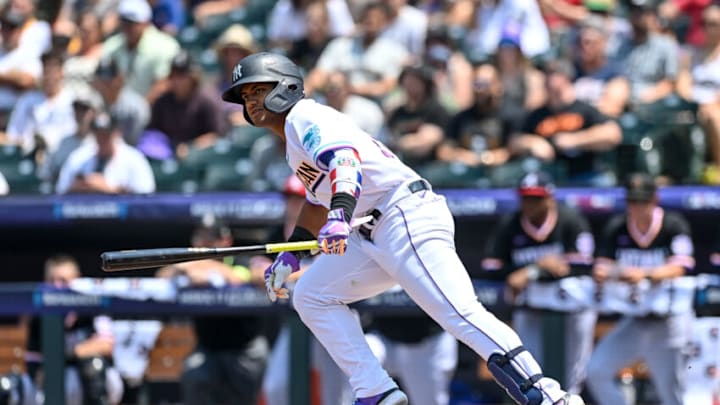 DENVER, CO - JULY 11: Jasson Dominguez #25 of American League Futures Team bats against the National League Futures Team at Coors Field on July 11, 2021 in Denver, Colorado.(Photo by Dustin Bradford/Getty Images) /
In case you're a Yankees fan choosing between buying a split-level ranch in the San Diego suburbs and purchasing a rookie card of a 19-year-old who somewhat struggled in his first season at Single-A Tampa, we've got the article for you!
The baseball card market has absolutely boomed in recent years, especially during the pandemic — but no, there's been no residual burst for the 1991 rookie cards you hoarded back in the day, sorry to say. Those should probably stay in the garage.
Though MLB's card market for rookies lagged behind the NBA and NFL in recent years (Dare you to buy a box of basketball cards! Simply dare you!), prospects like Yankees stud Jasson Dominguez have been a big part of the revolution for America's Pastime.
After all, with his 20s entirely ahead of him, speculation has run rampant about what his MLB future could look like. And who doesn't want an autographed rookie card of the next Bo Jackson/Mike Trout/Mickey Mantle? Especially if it's sparkly, shiny, and labeled 1-of-1?
It takes a special kind of person to dip their toe into this end of the pool, and recent action has completely changed the game on the Dominguez market.
A well-graded "Superfractor" Dominguez autographed rookie sold for $474,000 at auction this week, an investment that will likely never pay off. It's especially hard to reconcile this price with all the chatter we've heard about Dominguez's on-field stock dipping.
Yankees prospect Jasson Dominguez's rookie card prices are wild.
At Low-A Tampa last season, in 49 games, Dominguez triple-slashed .258/.346/.398, and is freshly 19 entering 2022 (as of Monday morning).
Respectable numbers, and the kid clearly knows how to take a walk (and take advantage of a league intimidated by his size), but so far, the raw power and absurd athleticism hasn't quite translated to on-field action.
Does that justify $474,000? In some prospect rankings, Dominguez has slipped behind SS Oswald Peraza, whose prices aren't exactly at this level. Sounds like a good investment to us!
If you've got half-a-million dollars to throw around in the card market, you had a tough choice to make this weekend: Domiguez or half of a Honus Wagner card?
Earnestly, you should probably be considering a third option here, too: saving the cash.
Or buying an infinity pool. Life's rich pageant.
Hopefully, Dominguez launches the baseball this season and firmly establishes himself as a part of the Yankees' future — more for the fans, though, and less for the dudes who've spent $500,000 on his chromed-out cardboard.