Even Yankees fans can admit ESPN Top 100's Babe Ruth spot is wild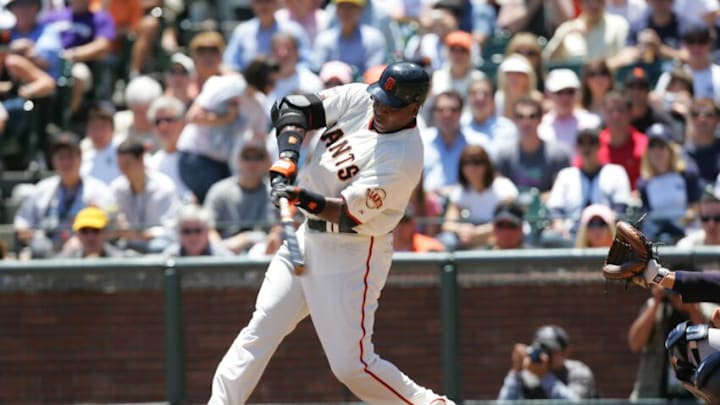 SAN FRANCISCO - JUNE 23: Barry Bonds #25 of the San Francisco Giants bats during the game against the New York Yankees at AT&T Park in San Francisco, California on June 23, 2007. The Giants defeated the Yankees 6-5 in 13 innings. (Photo by Don Smith/MLB Photos via Getty Images) /
As the MLB lockout drones on into its third month (cool!), ESPN's MLB team had the completely original idea to rank history's top 100 baseball players (Joe Posnanski, never heard of him!), and the list certainly catered to … let's say, a stereotypical "27 Rings!" Yankees fan's idea of history.
Or, rather, anybody who thought baseball truly was better — and packed with more talent — in 1922 than it is today.
What ESPN claims is the basis for this list in the article's intro:
"Based on career WAR, Hall of Fame status, peak performance and overall contributions to the game, we selected an initial pool of more than 200 players from both the major leagues and Negro Leagues, dating back to the late 19th century, plus a few of today's biggest stars.From there, we asked dozens of ESPN editors and writers to contribute to a balloting system that pits players from the list against each other in head-to-head voting. The question we posed: "Based on a combination of career value and peak performance, which player would you rank higher?""
What ESPN surely meant to say was, "We wanted you to write about it, so we made it crazy!"
Well, ESPN, you're welcome, but I couldn't sit idly by as fans of the other 29 MLB teams cried, "Oh, Yankee fans actually think Babe Ruth was better than Barry Bonds! What a joke!"
More iconic? Sure! Babe Ruth is going to be on more stamps. But Barry Bonds was more naturally talented.
More Articles About Babe Ruth:
ESPN Top 100 Baseball Players puts Babe Ruth No. 1, Barry Bonds No. 8
We love Babe Ruth. Icon. We defend Babe Ruth. When Adam Ottavino joined the Yankees after saying he could whiff the Babe, we cried foul, even though he 100%, absolutely, positively could have whiffed the Babe.
Now, this is a step too far. Barry Bonds' talent should not rank him seven spots behind the great Bambino on any list.
You can't stomach moving Barry up to the tippy-top? Fine. We respect, once again, Joe Posnanski rankings Bonds No. 3 and Willie Mays No. 1 on his list.
Mays in the No. 1 spot actually seems perfect. Can't be improved upon. Represents post-integration baseball, but is also a nostalgia-forward choice.
ESPN, though, ranked Mays second, Hank Aaron third, and Ruth No. 1, even though the Sultan of Swat definitely would not be offended if you told him he was, like, No. 5. "Good," he might say. "This fella looks stronger than me."
Oh, and by the way, Lou Gehrig and Ty Cobb are also ahead of Bonds, something nobody could ever have a quantifiable way of proving, unless they just wanted to outright admit Bonds made them uncomfortable.
We get it. The lockout is in mediation. The rumor mill is bone dry. But we can really do better than pretending Cy Young was a better athlete than Rickey Henderson, ignoring all the progress and athletic prowess we've seen from the game of baseball post-1947.
If ESPN wanted to just rerun Posnanski's list, that might be a good idea.