FanGraphs' Jasson Dominguez comments should worry Yankees fans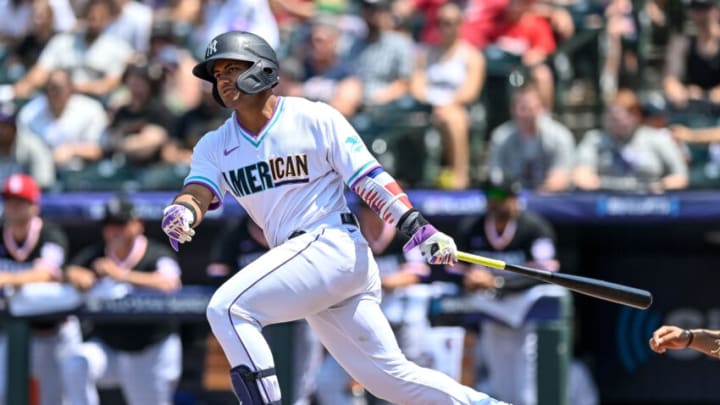 DENVER, CO - JULY 11: Jasson Dominguez #25 of American League Futures Team bats against the National League Futures Team at Coors Field on July 11, 2021 in Denver, Colorado.(Photo by Dustin Bradford/Getty Images) /
The good news? Yankees wunderkind Jasson Dominguez is absolutely doing the work this offseason, and the changes to make his swing fiercer and less prone to swings and misses are already visible.
The bad news? After two years of relative isolation and overwhelming praise, prospect evaluators now have enough data on Dominguez to pick him apart, and some assessments we've read this offseason still have us worried about his future.
Dominguez, who we were extremely unfairly sold on as the second coming of Mickey Mantle and Mike Trout (come on, now), played his first full-season ball in 2021 (thanks so much, 2020 pandemic!) and registered a .252/.353/.379 triple-slash at Low-A ball.
Perhaps more worrisome, though, were the resulting comments about newfound bad habits — including the way he reportedly prepared for the season.
According to the experts at FanGraphs, Dominguez bulked up prior to the campaign during the nearly-two-year offseason, and some of it was not beneficial muscle.
Add an unimpressive swing-and-miss streak, and you begin to see a different picture than what was advertised.
Real concerns emerge about Yankees' Jasson Dominguez
Per FanGraphs' Eric Longenhagen and Kevin Goldstein:
"Any conversation about Dominguez begins with his size, as he's put on somewhere in the neighborhood of 30-plus pounds in the last 24 months, not all of which is muscle. He has a powerful swing and generates tremendous exit velocities for his age, but he also showed far more swing-and-miss than expected."
Add in what Views From 314 Ft. noted — that Baseball Prospectus, an objective observer, moved Dominguez all the way down to sixth on their list, while MLB Pipeline, meant partially as an advertisement for the game's star power, kept him second — and it's easy to get nervous that Dominguez's projections may truly have slipped considerably.
Of course, 2022 is a prime opportunity to reverse the narrative's course yet again.
Dominguez's work has already begun in private and has bled into the public. His swing restructure includes a less pronounced toe-tap, designed specifically to stop sacrificing strikeouts to the Power Gods.
Entering 2021, Dominguez was an anointed star without any of the necessary experience.
After a whirlwind season, he's approaching 2022 hopefully a bit humbled, though with all the tools necessary to make a splash still in his pocket. Perhaps rewarding him with a Futures Game stint in the name of eyeballs last year wasn't the wisest decision, but whatever it takes, we'd love to see him get back to basics and rake when the curtain rises on the minor-league season.
And all eyes will be on him, especially considering it might be the only season that starts on time.