Brian Cashman breaks silence on Eric Chavez's Mets departure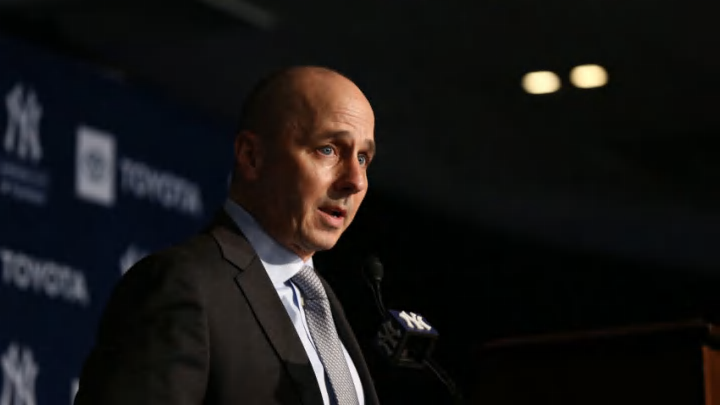 NEW YORK, NEW YORK - DECEMBER 18: New York Yankee general manager Brian Cashman speaks to the media during the New York Yankees press conference to introduce Gerrit Cole at Yankee Stadium on December 18, 2019 in New York City. (Photo by Mike Stobe/Getty Images) /
Hopefully this is the last time New York Yankees fans are hearing about Eric Chavez this season, because we're sure sick of talking about his brief employment before he departed for a promotion with the Mets.
Back in late December, the Yankees inked Chavez to a contract and manager Aaron Boone spoke to the press to praise the former major leaguer for his baseball acumen and expected role on the coaching staff.
Less than two weeks later, Chavez was gone after taking the hitting coach job with the Mets (a promotion from his role as assistant hitting coach in the Bronx). Since then, both the San Francisco Giants and San Diego Padres have blocked the Mets from interviewing a few candidates on their staffs for a promotion. So why didn't the Yankees?
On Wednesday, general manager Brian Cashman addressed the media, mainly to discuss the hiring of Rachel Balkovec as the team's Low-A manager, but the subject of Chavez inevitably came up.
Here's what he said, via Ken Davidoff of the New York Post:
""When we hired Eric, Eric and I had conversations about opportunities that could exist moving forward. Selfishly, we hoped they didn't present themselves in the near term, but there were jobs open in Oakland as well as the Mets that were just getting secure. … He has ties with those organizations."We talked through those options as well as, there's a directive from Major League Baseball. [When there are] opportunities of a higher standing, they want you to provide that upward mobility for the diversity initiatives.""
Brian Cashman's response about the Yankees losing Eric Chavez is frustrating.
So Chavez was brought aboard under the impression that there'd be a good chance he'd leave for another opportunity … despite the fact he was already available for about seven weeks and didn't have any better opportunities presented to him? Then what was the point? Why even take a risk like that when you're revamping an entire coaching staff?
Look, we don't think Chavez's decision to leave is going to haunt the Yankees in any capacity, we're just annoying that the organization managed to embarrass itself at the hands of the Mets with what was supposed to be nothing but a minor move.
But instead, apparently knowing that Chavez would leave and the Yankees' commitment to MLB's diversity initiative, the team still held a press conference to essentially give us the impression that Chavez was going to be some sort of "manager in waiting."
Maybe don't publicize someone like that, especially if you think there's a real chance of him leaving before he even starts the job?