Yankees' prospect Antonio Gomez shows off Aroldis Chapman's arm and booming bat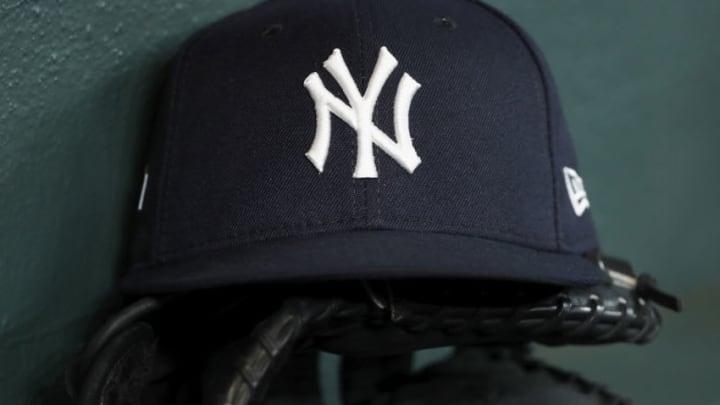 HOUSTON, TX - OCTOBER 19: A New York Yankees hat and glove are seen in the dugout during Game Six of the League Championship Series at Minute Maid Park on October 19, 2019 in Houston, Texas. (Photo by Tim Warner/Getty Images) /
Based on what we're seeing from 20-year-old Yankees catching prospect Antonio Gomez this offseason, he's poised to be the breakout slugger behind the plate we've all been waiting for since the whole "Gary Sánchez" thing turned stale.
I guess the hype machine hits another level when you're spotted hanging out with Yadier Molina, huh?
Gomez has been all over social media during this locked-out offseason, training seemingly nonstop and always eager to show off his natural tools to his many followers — as well as the extremely starved section of Yankees Twitter that'll jump at anything, especially if it's promise at this specific position.
This shouldn't shock you, but over the holidays, Gomez has been busy again!
The evening of Dec. 27, just as most of us were packing up our Christmas trees and throwing our ornaments into a blender, Gomez was back on the practice fields and dominating, showing off his crack of the bat.
Now that's pop.
Yankees top catching prospect Antonio Gomez can hit and throw with the best of 'em.
The last time we saw Gomez in a game that counted, he was wrapping up his age-19 season (he's since turned 20) at Low-A Tampa, cranking a pair of homers in 17 games while hitting just .197.
Prior to that, though, he laid waste to the Gulf Coast League in a 29-game stint, hitting .305 with an .890 OPS. As Gomez prepares to make the transition to full-season ball this year, he's clearly tried to get all his ducks in a row, tools-wise.
He's spent he offseason working constantly and picking the brains of the best (thanks, Yadi, we should've signed you when we had the chance).
Oh, and he's also got a natural cannon for an arm that can rival Aroldis Chapman. Check out Gomez popping the gun at 101.
Mercy. Can we please get this guy big-league ready by 2024?
We're ready for the Austin Wells/Antonio Gomez spring competitions, thank you very much.