Seiya Suzuki's Instagram activity giving Yankees a chance?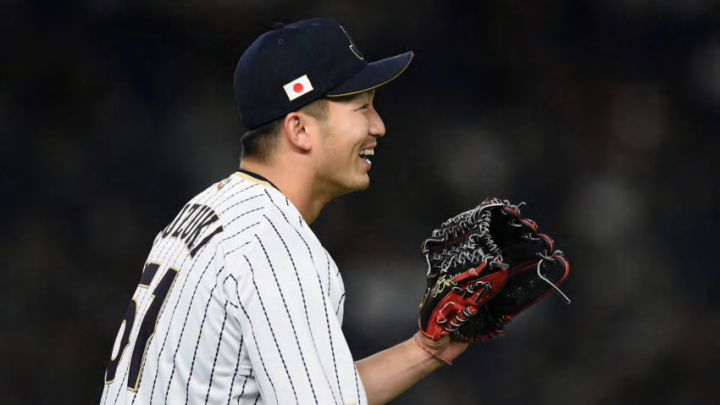 TOKYO, JAPAN - MARCH 15: Outfielder Seiya Suzuki #51 of Japan warms up prior to the World Baseball Classic Pool E Game Six between Israel and Japan at the Tokyo Dome on March 15, 2017 in Tokyo, Japan. (Photo by Matt Roberts/Getty Images) /
Look, we weren't going to write about this when it looked great for the Red Sox. But now that we're back to an even playing field in the off-field nonsense department, we're writing about it.
Biased? Yes. Absolutely. Extremely biased. You're reading a Yankees website.
Japanese (super)star outfielder Seiya Suzuki remains one of the more intriguing possible additions during the ongoing lockout. He's a right-handed power bat who can play multiple outfield positions, and his situation got far murkier when all MLB operations shut down, delaying his signing deadline all the way to … TBD.
It also doesn't hurt the intrigue that the most recent rumor we received about Suzuki indicated that his potential "final three" includes three AL East power players in the Sox, Blue Jays, and Yankees.
Brian Cashman's either going to outbid his competition or get outfoxed by his enemies. Juicy.
There's been plenty of Boston optimism during the frozen period of Suzuki's free agency, and for good reason. He's got a swing built for the Monster, and Boston had to have traded Hunter Renfroe for some reason, right? Add in Chaim Bloom's aggressive interest, and the Sox are the likely favorites. And, oh, there's the dumbest thing on earth: Suzuki was following Boston on Instagram, and hadn't yet broached that with another team.
Until recently! Likely realizing how weird it looked, Suzuki unfollowed the Sox. Aw well!
Yankees free agent target Seiya Suzuki unfollowed the Red Sox on Instagram.
You're not going to believe this, but Red Sox fans are already spiraling in the comments about how this is actually good for them. It's good if he follows them, but great if he unfollows them. Got it. Yeah!
Bottom line: this means nothing, and it's probably just Suzuki getting annoyed by seeing Section 10 stan accounts tweeting, "Done deal, Suzuki Red Sox tho, weep," which is grating in any language. Suzuki did what he had to, and unfollowed the Sox to make Red Sox Nation as silent as this year's Winter Meetings. Great move.
Frankly, too much is getting written about how Suzuki's an ideal fit at Fenway, and not enough is getting written about how his most recent season in Japan looks exactly like Hideki Matsui's. So let's fix that.
Suzuki would be an excellent fit in Yankee Stadium, too, which — contrary to popular belief — does also have a left-field wall as well as a right-field wall.
Good hitters hit anywhere, even if they're being rotated between left field and center field, serving as an injury caddy for Aaron Hicks. Get Suzuki, ask questions later.