What was the point of signing Gerrit Cole if the Yankees are going to do this?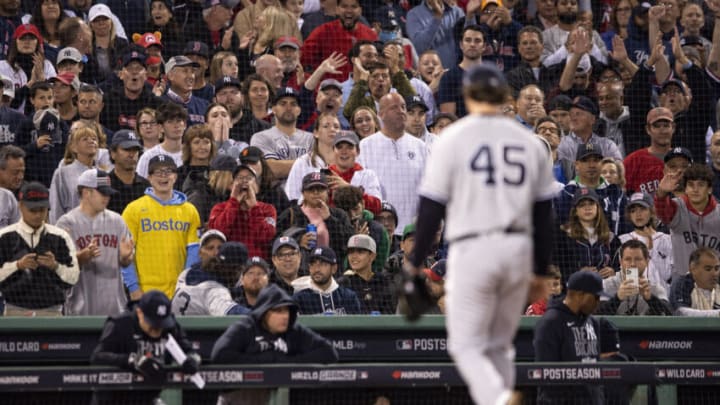 BOSTON, MA - OCTOBER 05: Fans react as Gerrit Cole #45 of the Boston Red Sox exits the game during the third inning of the 2021 American League Wild Card game against the Boston Red Sox at Fenway Park on October 5, 2021 in Boston, Massachusetts. (Photo by Billie Weiss/Boston Red Sox/Getty Images) /
We know there's still time. We know guys like Carlos Correa and Freddie Freeman are available. We know there's plenty to sort out on the trade market. But the New York Yankees making ONE move in the form of re-signing Joely Rodriguez in the name of saving $1 million doesn't exactly instill confidence as fans are staring down the barrel of months of inactivity with the lockout here.
And it's fair to question their motives. It's fair to wonder why there wasn't more urgency. It's fair to be frustrated since it seems there will be some form of "running it back" in 2022 despite this roster falling inexplicably short the last two seasons. And even if it doesn't feel that way to some of you since you might be expecting sweeping changes, then you're going to have to bank on general manager Brian Cashman going full throttle the moment the lockout ends.
Some of us just don't feel overly optimistic about that when you factor in the Yankees' recent history of hesitancy, cost-cutting and excessive deliberation.
Whether they meant to put themselves in this position or not, the Yankees have done the best they can to make this a PR disaster with fans questioning their every move (or non-move). And that's beginning to raise questions about the players they've previously signed in what we believed was starting to bring this era of Yankees baseball into focus.
Take signing Gerrit Cole to a nine-year, $324 million contract — which was a massive overpay and "bid against yourself" moment for a pitcher who falls outside of the top-five in the game, Nonetheless, that's a discussion for another time. The Yankees needed an ace. They got their ace, by whatever means.
Investing $36 million per year in a pitcher would suggest you have other moves up your sleeve to supplement that addition. Since then, the Yankees have hardly done anything. The 2020 season was a disaster, so we won't really count that, but the moves before 2021 were an atrocity. The trade deadline decisions were largely questionable. And the inactivity this offseason before a months-long lockout has forced everything to boil over.
What was the point of signing Gerrit Cole if this is what the Yankees are going to do?
You might think the Yankees have enough to make a World Series run, but it's clear they do not. They have no first baseman. They have no shortstop. They have no center fielder. Their second baseman and catcher are topics of contention. The back end of their bullpen has unraveled at the worst possible times since 2017. The rest of the rotation behind Cole is the textbook definition of "fine."
Time and time again, the Yankees have been bested by the Astros, Red Sox and Rays, especially in the postseason, with or without Cole. Not good enough. Never will be. And the Yankees' problems were evident before they acquired the right-hander. Their bats famously went silent in the postseason. Their defense needed a lot of improvement. They relied far too much on home runs. They didn't have many (if any) big-game players.
Here we are approaching 2022 and those problems still persist. And the Yankees didn't feel it was paramount to address them before the lockout. They have the worst running formula, combining prospect-hugging, frugality (for a franchise of their standard), and questionable decision-making.
https://twitter.com/CodifyBaseball/status/1465429370403577860?s=20
That's why we're asking what the point of signing Cole was … especially when you out-bid yourself by ~$80 million. One elite starting pitcher was supposed to be the start of the Yankees getting ahead of their problems. Instead it hardly elevated them. Now, two prime years of Cole have passed and the Yankees are penny-pinching, approaching another get-right year with more holes than arguably most contenders.
Let's pray that there's a grand plan the moment the lockout is lifted. Because if there isn't, this question is going to hold a lot more weight with groans growing louder and louder.