Aaron Boone's Carlos Correa comments show Yankees aren't scared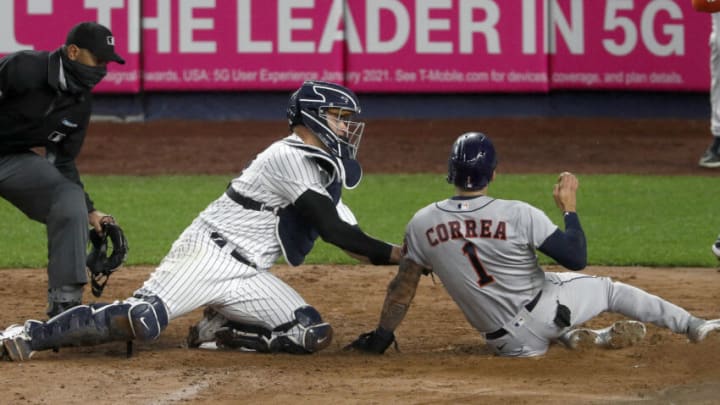 NEW YORK, NEW YORK - MAY 05: (NEW YORK DAILIES OUT) Gary Sanchez #24 of the New York Yankees tags out Carlos Correa #1 of the Houston Astros during the fourth inning at Yankee Stadium on May 05, 2021 in New York City. The Yankees defeated the Astros 6-3. (Photo by Jim McIsaac/Getty Images) /
The New York Yankees really, really want you to know that they're unafraid of a Carlos Correa free agent pursuit.
Whether the purpose of these sound bites is to actually pursue Correa or scare up a Corey Seager deal is for all of us to find out in a month or two. Regardless of the reason, though, both Brian Cashman and Aaron Boone have now given full-throated endorsements of the Correa fit.
Then again, when a player's offenses with his old team are this egregious and the rivalry between his team and yours are this fiery, you maybe have to address it? It could be that simple.
Whether it's a result of the media's questions being so direct or the fit being so obvious, both Boone and Cash have now been point-blank asked if the Yankees will shy away from Correa's market because of the way Aaron Judge (and Co.) have bristled in the past about the 2017 Astros' misdeeds.
Instead of dancing around it and saying something generic like, "We'll look at all options and evaluate who makes us a better team when the time comes," Cashman called the shortstop "clearly not afraid" and said he didn't plan to listen to the fan base's concerns about any potential locker room drama.
Boone, on Tuesday, echoed his head honcho. He was effusive in his praise for Correa's leadership, marking the second time in as many weeks a Yankees executive decided they weren't afraid to name unsigned names ahead of the free agent process really beginning.
Yankees manager Aaron Boone was not afraid to praise Carlos Correa's leadership.
Now, from a purely logical standpoint, it makes perfect sense for the Yankees to not eliminate themselves from anybody's market before the market even opens.
Everyone and their mother knows they need a shortstop, and most people — before November began — assumed they'd be out on Correa almost immediately because of their uncomfortable history. That assumption alone probably beefed up Corey Seager and Scott Boras' asking price by $75 million.
The louder the Yankees can scream that they're interested in Correa, the better for Hal Steinbrenner's bottom line, as long as someone believes it.
Anything to distract from the rippling waves of Correa's "Derek Jeter sucks" storyline, huh?
If the Yanks have full authority to pursue the most expensive option on the market, then they'll blow away Correa's competition. If they'd still like to save some shortstop money while signing Aaron Judge to an extension, they'll pack up their Correa praise in a few weeks after adding Seager (or Trevor Story, or Marcus Semien). Their commentary will have done its job.
Actions speak louder than words, but from top to bottom, the Yankees' words make it seem like they'd have no issues with Correa packing his watches and bringing them to the Bronx to lead the same core he defeated in 2017 and 2019.