Yankees prospect hits loudest home run you'll ever hear in Arizona Fall League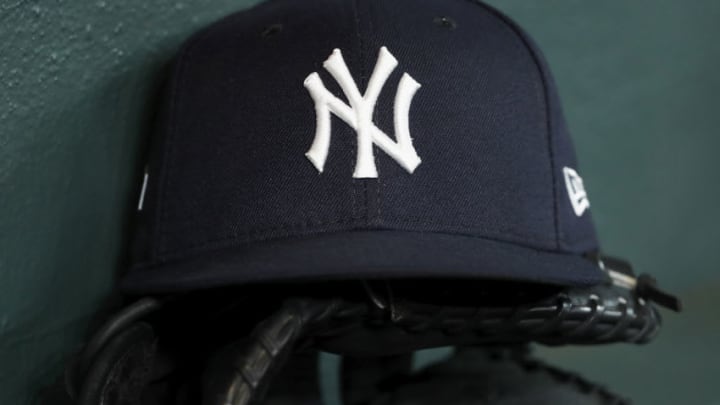 HOUSTON, TX - OCTOBER 19: A New York Yankees hat and glove are seen in the dugout during Game Six of the League Championship Series at Minute Maid Park on October 19, 2019 in Houston, Texas. (Photo by Tim Warner/Getty Images) /
Something about the acoustics in the Arizona Fall League has it sounding like the New York Yankees' thunderous hitters of the future are smashing rocket balls in the desert.
We don't hate it.
Of course, the Kid Bombers are doing plenty of damage, no matter the volume. Austin Wells, trying desperately to hold onto the "catcher of the future" label, has been letting his bat do the talking in the early going. UDFA Elijah Dunham has made his talent obvious, too — of course, he would've been selected if the 2020 Draft had been a normal number of rounds, but we're certainly lucky to have him.
Now, a third Baby Bomber has thrown his name into the ring — third baseman Andres Chaparro, who set fire to this baseball on Saturday night.
Do us a favor. Click the play button on this highlight, close your eyes, and listen.
Does this sound like a Chaparro home run, or a steel ball being shot out of a cannon?
Yankees top prospect Andres Chaparro sent this baseball to Mars.
The AFL misspelled Chaparro's name in the highlight, but we'll let that slide. They were probably mesmerized by the majestic dinger, too.
Chaparro, still just 22 years old, is a veteran of the Yankees' minor-league system, but is first taste of full-season ball came in 2021, when he moved up from the NY Penn League's Staten Island Yankees (RIP) to Low-A Tampa to begin the season. He drilled seven homers and knocked in 51 runs in 65 games with the Tarpons, then found himself bumped up for a 36-game cameo in High-A Hudson Valley, where he continued at a more impressive pace, slugging .527.
The Arizona Fall League has been MLB's preeminent showcase for top prospect talent, so it speaks volumes that New York both thought Chaparro deserved a slot and wanted to see more from him after the campaign he'd just put forth.
Unfortunately, this breakout might be coming at the wrong time for the Yanks — they can't protect every Rule 5-eligible talent, and Chaparro probably isn't on their short list. This could end up just being an impressive showcase for someone else.
This isn't just a home run. This is the type of Natural-inspired smack you tell your kids about, especially if you live in the middle of Arizona.
Just … prodigious. Looking forward to more, hopefully in our system. Nothing to see here, rivals! The Rule 5 is just for relievers, right? Avert your eyes.