Yankees: Pete Rose's NSFW criticism of Joey Gallo is out of this world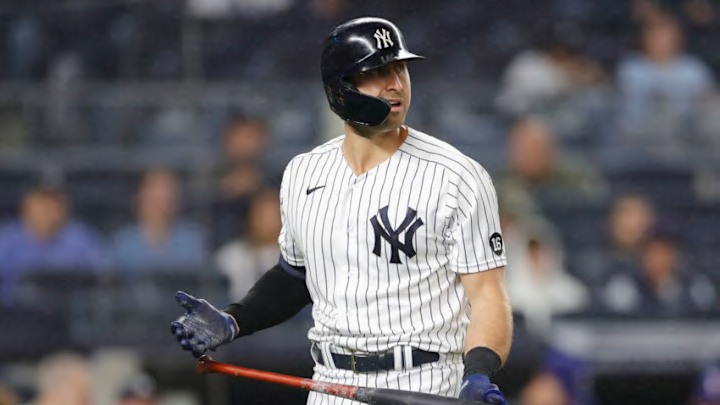 NEW YORK, NEW YORK - SEPTEMBER 21: Joey Gallo #13 of the New York Yankees reacts after striking out during the seventh inning against the Texas Rangers at Yankee Stadium on September 21, 2021 in the Bronx borough of New York City. (Photo by Sarah Stier/Getty Images) /
The baseball community at large can agree Joey Gallo had a really rough run in his two-plus months with the New York Yankees ever since coming over in a trade with the Texas Rangers.
Gallo was supposed to provide Gold Glove defense as well as power and balance to the offense, but he hardly did any of that. He mostly played in unfamiliar territory in left field, recorded only 13 home runs and 22 RBI in 58 games, and struck out a truly unthinkable 88 times in 228 plate appearances.
It is what it is. The season is over. There's no going back to change anything. And truth be told, the Yankees knew what they were getting in Gallo — someone who strikes out a ton, barely hits above the Mendoza Line, hits home runs very often and walks a lot.
In the end, it was the Yankees' fault, once again, for acquiring a redundant player whose only real addition to this overall flawed roster was the fact he hit from the left side of the plate.
Criticizing Gallo, whether he's here or not in 2022, gets us nowhere. That's why Pete Rose should know better.
Wait, sorry, perhaps that's asking too much.
Pete Rose ripping Yankees slugger Joey Gallo was uncalled for.
Rose's commentary on Gallo was completely uncalled for, especially for a man who's been exiled from the game for his own unsavory behavior.
""That was the worst f–king lineup they could have put on the field," Rose told USA Today's Bob Nightengale. "Their 6, 7, 8, 9 hitters were all out-men. They had to have (Aaron) Judge and (Giancarlo) Stanton do something. If they didn't, all of the pressure was on Joey Gallo. You saw how that worked out."How does someone who didn't play every day strike out 213 times? Ray Charles wouldn't strike out that much. I just can't imagine striking out 213 times without killing myself.""
Hey Pete! You're not wrong about the lineup being terrible … but don't you think that's not Gallo's fault? Also, "all of the pressure" was hardly ever on Gallo. DJ LeMahieu shouldered a lot of it. So did Gleyber Torres. Anthony Rizzo was right in the mix, too.
Gallo's slow start and continued struggles never really had fans relying on him to do much of anything, sadly. It just wasn't a match and it didn't work out.
We're just confused as to why Rose calling out Gallo has come after the slugger's seventh year in MLB and the fact that this has been his game since Day 1.
Maybe Gallo has a rebuttal here? Rose's career OPS is .784. Must've been fun hitting singles every at-bat, yeah? Gallo's is .821 and he has plenty of years left in the bigs. What's more embarrassing, though? He's the all-time hits leader and can't get into the Hall of Fame.