Yankees: 5 moments from 2021 that should reignite rivalry with Red Sox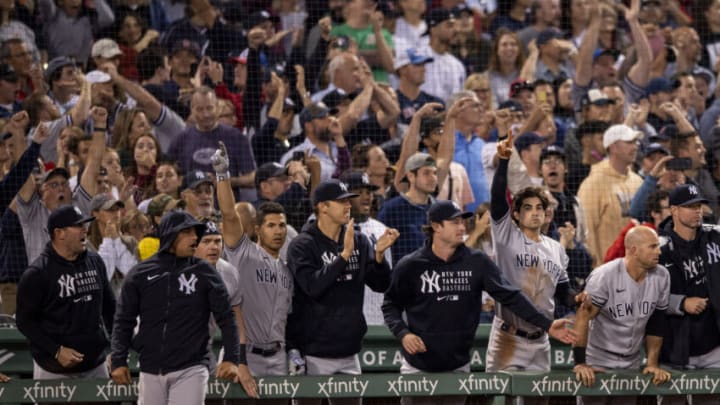 BOSTON, MA - SEPTEMBER 26: Members of the New York Yankees react after a go ahead RBI double during the eighth inning of a game against the Boston Red Sox on September 26, 2021 at Fenway Park in Boston, Massachusetts. (Photo by Billie Weiss/Boston Red Sox/Getty Images) /
Rougned Odor #12 of the New York Yankees (Photo by Rich Schultz/Getty Images) /
The New York Yankees–Boston Red Sox rivalry is there … but it's not really in your face. And we want it in your face. Yes, YOURS. Stuffed into your face each and every time it's possible to put these two teams in national television. We do live in an increasingly divisive world, but life was just better when that was removed from our everyday interactions and instead just reserved for sports.
Or maybe life was never like that?
Anyway, this really got us thinking, because ESPN's Sunday Night Baseball broadcast really rubbed us the wrong way. Alex Rodriguez and David Ortiz being "pals" for the world to hear while the two teams did battle on the field in a game that carried huge playoff implications? The two "reminiscing" about the 2004 ALCS? Ortiz offering to mend the bridge between A-Rod and Jason Varitek?
Whatever happened to carrying hate in your heart for a lifetime? This generation can't handle that? Back in my day …
Just kidding! We don't want it to be that extreme in any situation, but we do want disdain to exist. We don't want to publicly express our "respect" to players who have crushed our souls in life-defining sports moments. We want these players taking the field ready to humiliate one another and revel in the misfortune they've created.
The rivalry hasn't really reached intense heights as it did some 15-plus years ago, and it's really kind of fizzled since 2018. But we think 2021 is here to fix that.
5 moments from 2021 that will intensify the Yankees-Red Sox rivalry
5. Blown call against Rougned Odor on Sunday Night Baseball
We're not here to harp. Just reliving some moments that should bring more flair. And one could say it all began on June 6.
The Yankees were looking to avoid the second straight sweep at the hands of Boston on Sunday Night Baseball and, of course, this one went to extras … even though it maybe shouldn't have.
In the bottom of the ninth, the Bombers tied this one up 4-4 on a Gleyber Torres RBI double. Thrilling. Torres then stole third and Gary Sanchez walked. With two outs, Rougned Odor stepped into the batter's box. He battled Sox reliever Matt Barnes and worked the count full.
And then this happened:
You'll never believe what happened next! The Red Sox scored two runs in the top of the 10th and won 6-5. We're not saying the Yankees would've won this … but they definitely would've had a better chance with the bases loaded against Barnes and his elevated pitch count!
Blown calls are certainly more ammo to hate your rival.